Elite League Speedway: Belle Vue Aces comeback hits Poole hard
By Aces
Last Updated: 29/04/14 12:29pm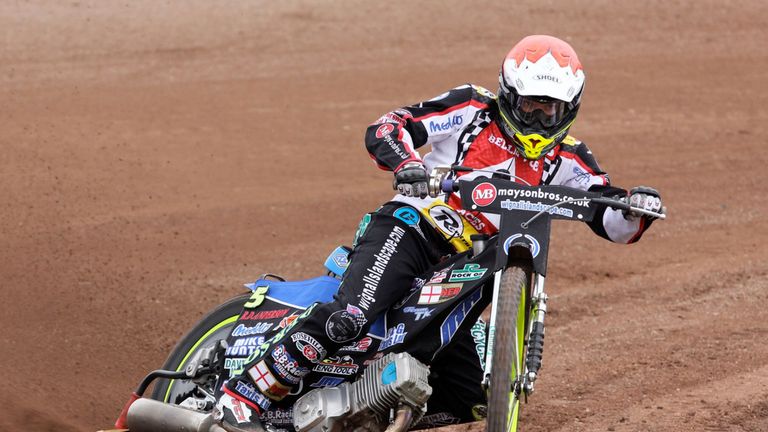 Belle Vue Aces produced a barnstorming finish at Kirkmanshulme Lane to secure a 51-39 victory over Poole Pirates.
Results and scorers:
Belle Vue 51
1. Matej Zagar 12+2
2. Michael Palm Toft 4+1
3. Scott Nicholls 9
4. Richie Worrall 6
5. Craig Cook 13+2
6. Stefan Nielsen 7+1
7. Ben Reade 0
Poole 39
1. Chris Holder 4
2. Josh Grajczonek 8
3. Przemyslaw Pawlicki 9
4. Vaclav Milik 3
5. Maciej Janowski 2
6. Charles Wright 8
7. Oliver Greenwood 5+1
------------
Wolverhampton Wolves 48
1. Tai Woffinden 4+1
2. Jacob Thorssell 7+1
3. Ty Proctor 6+1
4. Ricky Wells 12
5. Piotr Pawlicki 13+1
6. Joe Jacobs 0
7. Ashley Morris 6+1
Lakeside Hammers 42
1. Peter Karlsson 9
2. Richard Lawson 7+1
3. Davey Watt 11
4. Mikkel Bech 5
5. Lewis Bridger 0
6. Ben Morley 2
7. Steve Worrall 8+2
The defending champions had seemed set on getting something from their trip to Manchester and led after ten heats - but the Aces fought back in fine style claiming a brilliant four 5-1 maximums in the final five heats, to hand them all three league points.
The match saw a welcome return to form for British star Craig Cook, who swept to his first top-flight maximum of the season as he claimed 13+2.
Number one Matej Zagar provided wondeful back-up with paid 14, whilst Scott Nicholls maintained his good start to the season with 9.
Przemyslaw Pawlicki (9) and  Josh Grajczonek (8) were the main reason Poole stayed in touch, but it was a poor night for the likes of Chris Holder (4), Vaclav Milik (3) and Maciej Janowski (2) - which in the end proved crucial for the Pirates.
Belle Vue's Chief Operations Officer Chris Morton said: "We've had an absolutely fantastic result. Things got a bit tight towards the midway point but what was important was that we needed to win and getting even two league points would've been satisfying, but getting the full three points is brilliant.
"The way we did it was was extremely rewarding because we were two points down and turning it around from that position, against a team like Poole, was excellent. It gives us a good feeling for what the riders can do when the pressure's on, and what they do well is react and respond to their situation."
As with Belle Vue, Wolverhampton had to come from behind at Monmore Green to claim a 48-42 win over Lakeside Hammers.
The league leaders started in positive fashion and lead after ten heats. Wolves levelled things up in Heat 11 and took the lead for the first time on the night in Heat 13.
They took a four-point lead into Heat 15 meaning, as with last week against Belle Vue, a 5-1 for the visitors would have seen the drawing - but this time there was no mistake from the home riders with Piotr Pawlicki and Ricky Wells seeing them to a 4-2.
Pawlicki was the outstanding rider on the night dropping just one point for paid 14, whilst Wells was almost as equally impressive for his 12.
Young Swede Jacob Thorssell maintained his good form with paid 8 - but the struggles of world champion Tai Woffinden continued with paid 5.
Despite Wolves' comeback, Lakeside were still able to gain a valuable league point. Davey Watt was their top man with 11 points, whilst Monmore legend Peter Karlsson still showed he has not forgotten how to ride his former home shale with 9.
Wolves boss Peter Adams said: "They are a very good team Lakeside and I'm happy with the win.

"I know we need to score all the points at home but when you take everything into consideration including Tai's four point return it's a very good win."