Elite League Speedway: King's Lynn Stars level at the top of the table
Last Updated: 01/05/14 3:27pm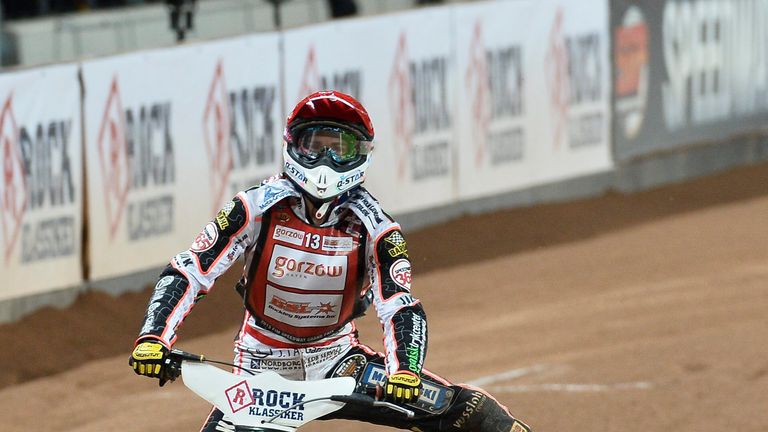 King's Lynn Stars' impressive star to the Elite League season continued with a 53-43 success over Leicester Lions which takes them level at the top of the table with Lakeside Hammers.
Results and scorers:
King's Lynn Stars 53
1. Niels-Kristian Iversen 12+1
2. Nicklas Porsing 3+2
3. Rory Schlein 7+2
4. Robert Lambert 5+2
5. Kenneth Bjerre 8
6. Lewis Kerr 10+1
7. Lewis Rose 8+2
Leicester Lions 43
1. Jason Doyle 13
2. Sam Masters 5
3. Mads Korneliussen 13+1
4. Simon Stead 9
5. Ryan Fisher 1
6. Max Clegg 0
7. Tom Perry 2
-------------
Poole Pirates 48
1. Chris Holder 12+1
2. Josh Grajczonek 7
3. Przemyslaw Pawlicki 9
4. Vaclav Milik 6+1
5. Maciej Janowski 6+3
6. Lee Smart 2
7. Kyle Newman 5+1
Birmingham Brummies 421. Edward Kennett 2+1
2. Adam Skornicki 8
3. Daniel King 3+1
4. Daniel Nermark 10+1
5. Ben Barker 10
6. Simon Lambert 5+1
7. Paul Starke 4
The Stars maintained their 100 per cent home record with a comfortable win of Leicester at the Norfolk Arena from first heat to last.
The one sour not for the Stars was a collarbone injury suffered to Danish ace Kenneth Bjerre as he crashed out in the final heat.
Bjerre's fellow countryman Niels-Kristian Iversen continued his excellent form with paid 13, but the real stars for the home side was the fast-track draft reserves, Lewis Kerr and Lewis Rose. Kerr returned with paid 11 whilst Rose grabbed paid 10 as they dominated.
Leicester themselves has two tactical heat winners to help peg back The Stars with former King's Lynn man Mads Korneliussen (13+1) and Jason Doyle (13) both claiming the six-point wins.
Simon Stead also showed good form with three wins on his way to 9 points.
Leicester boss Norrie Allan said: "We just could not get going early on but found some form to make amends after a poor start. The two tactical rides by Mads and Jason pulled us back into the match but the tapes exclusion for Doyley in Heat 11 was a blow as I could see that with Simon going so well we may have gained something out of that race. 

"Hats off to King's Lynn, they are a very good home side but in the end we gave them something to think about."
Battling Brummies
Bottom-of-the-table Birmingham Brummies claimed their away point of the season but they still lost 48-42 at Poole Pirates.
The Brummies, whose entire side have been threatened with the axe, produced one of their best performances of the season.
Birmingham actually held the lead at Wimborne Road after ten heats but 5-1 maximums in Heats 11 and 13 put Poole on the path to victory on the night.
Going into the last heat, Birmingham's top two performers Ben Barker (10) and Daniel Nermark (10+1) secured a 3-3 to guarantee a point for the visitors.
Chris Holder was Poole's top-scorer with 12 but it was not an easy night for the home side with only Przemyslaw Pawlicki (9) and Josh Grajczonek (7) also managing heat wins.
Brummies boss Jack Lee said: "To come here to Poole and snatch a league point is a great effort and we are over the moon with that. Everyone pulled together to make an impact, and it was a really strong team performance in the end."