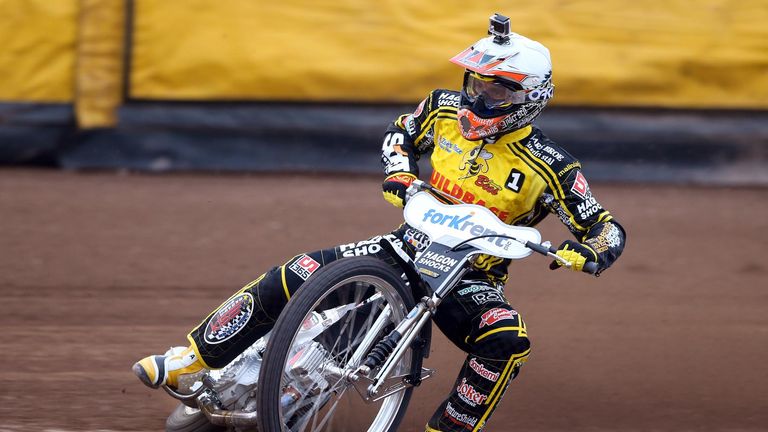 Lakeside's lead at the top of the Elite League is back to three points after they eased past Coventry Bees 51-44 at the Arena-Essex Raceway.
Results and scorers:
Lakeside Hammers 51
1. Peter Karlsson 12
2. Richard Lawson 5
3. Davey Watt 10+1
4. Mikkel Bech 8+1
5. Lewis Bridger 7+3
6. Ben Morley 5+1
7. Steve Worrall 4
Coventry Bees 44
1. Hans Andersen 17
2. Max Fricke 7
3. Ryan Fisher 1
4. Kenneth Hansen 8
5. Chris Harris 3
6. Jason Garrity 7+2
7. James Sarjeant 1
--------------
Eastbourne Eagles 59
1. Mikkel Michelsen R/R
2. Timo Lahti 9+2
3. Joonas Kylmakorpi 10+2
4. Cameron Woodward 15+2
5. Bjarne Pedersen 12+1
6. Lewis Blackbird 10+1
7. Daniel Halsey 3+1
Wolverhampton Wolves 31
1. Tai Woffinden 8
2. Jacob Thorssell 6
3. Ricky Wells 4
4. Ty Proctor 5
5. Adam Skornicki 3
6. Joe Jacobs 3+2
7. Ashley Morris 2
--------------
Leicester Lions 50
1. Jason Doyle 13
2. Sam Masters 7+1
3. Mads Korneliussen 8
4. Lasse Bjerre 6
5. Ben Barker 3+2
6. Tom Perry 6+2
7. Max Clegg 7+1
Belle Vue Aces 43
1. Matej Zagar 9+1
2. Michael Palm Toft 4
3. Scott Nicholls 7+1
4. Richie Worrall 6
5. Craig Cook 14
6. Stefan Nielsen 1
7. Ben Reade 2
The Hammers' impressive start to the season and undefeated home campaign never looked like being disrupted by Coventry, who after ten heats were some 16-points in arrears.
Hans Andersen - who finished with an excellent 17 points - claimed a tactical win to stem the flow, but Lakeside were just too strong. Although going into the final heat the margin was down to 7 points so the visitors did have the chance to claim a point - but a 3-3 meant the home side fended off the comeback to take all three points.
Despite finishing as the top-scorer in the meeting, Andersen admits he was lucky to get through and said: "I don't know how I managed to get through the meeting because halfway through I had to go out behind the pits area and was ill, and it's been happening all day.
"I've got no strength in my body because there's nothing in me - I've been trying to get some food in but it comes out as quickly as it goes in!

"So it was a very difficult night but I managed to put on a good show, and it's just a shame that we didn't get a point out of it because we definitely deserved it with the comeback we had." 
Peter Karlsson led Lakeside home with 12, whilst Davey Watt (10), Mikkel Bech (8+1) and Lewis Bridger (7+3) all contributed to the win.
Hammers Co-Promoter Jon Cook said: "It got a bit squeaky at the end for the bonus point, thanks to Coventry's use of the rubbish tactical rule, but credit to our boys for sitting on the 3-3 alls needed at the end."
Eastbourne moved up to third in the table as they dominated Wolverhampton at Arlington in a 59-31 victory.
Despite having to use rider-replacement for No 1 Mikkel Michelsen - who was riding in the Danish championship - they romped to victory claiming 11 wins from the 15 heats.
Captain Cameron Woodward romped to paid 17, whilst Bjarne Pedersen claimed paid 13 but the best performance came from Finnish star Joonas Kylmakorpi who grabbed a paid maximum (10+2).
With British fast-rack prospect Lewis Blackbird dominating on his way to paid 11 and Timo Lahti also grabbed 9+2 - Wolves had no answer to the dominant Eagles.
World No 1 Tai Woffinden did his best with a couple of heats wins, but even he was limited to just 8 points and he admits that they were not good enough.
 "It's disappointing and I'm pretty annoyed right now, I felt I was unlucky at times and could and should have done better," he said.

"But as a team we were just out-gated by the Eastbourne boys. They were quicker and sharper than us and when we missed the gate we couldn't get back at them. It's disappointing but let's get back to Wolves on Monday and put it right!"
Lions roar
Leciester Lions improved home performances continued with a 50-43 win over Belle Vue Aces at Beaumont Park.
The Lions were comfortable after 9 heats, carrying a 12-point lead but a tactical win from Craig Cook helped them to a 7-2 win which kept the Aces in touching distance.
Going into the final heat and an advantage for the Aces would have given them a point, but a 3-3 gave Leicester all three points.
Jason Doyle finished as top-scorer for the Lions with 13, as they coped with three of their top five as Simon Stead was on Premier League duty whilst Peter Ljung and Patrick Hougaard are carrying injuries - but despite their lack of regulars the home side came through.
In the end Leicester's reserve pairing of Max Clegg and Tom Perry made a huge difference as they heavily out-scored Stefan Nielsen and Ben Reade with ten points the gap between them.
Cook was the stand-out rider for Belle Vue with 14, whilst Matej Zagar hit paid 10 - but it was not enough to get a point for the Manchester outfit.