Danny King takes Sky Sports behind the scenes at the British GP
By Henry Chard
Last Updated: 26/07/16 11:12pm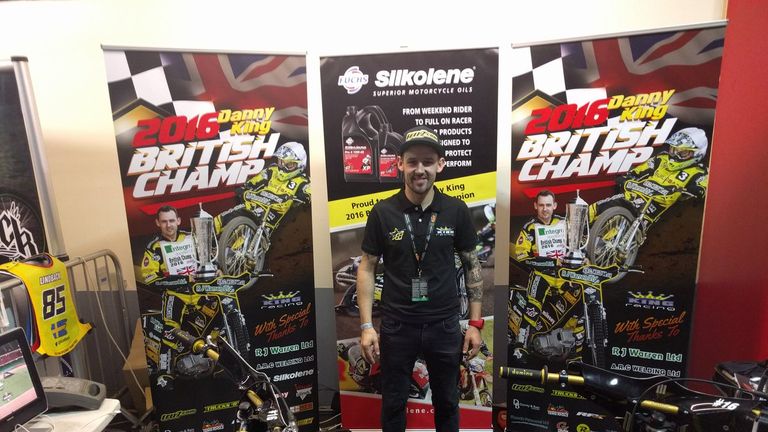 British champion Danny King tells Sky Sports all about appearing at the biggest event in Speedway - The British GP.
King qualified for the showpiece event in the Grand Prix Series by winning the British Title at Belle Vue the previous month but the Coventry and Ipswich man says he tried to focus on domestic action before his Grand Prix debut.
"I tried not to think about it as I had a job to do in domestic league racing so I didn't want to think too much about Cardiff and sacrifice my league racing," said King. "I think I showed that by getting a maximum at Ipswich on the Thursday before but once that was over I put my concentration on Cardiff which was also good as I didn't want to put any pressure on myself at Cardiff. I wanted to go there and enjoy it and if I did that I knew I'd do well and I think that showed in the end."
It was a hectic turnaround for the Ipswich skipper and his team after domestic action in Suffolk on the Thursday before making the trip to Cardiff the following day.
"On the Thursday after the meeting at Ipswich we went straight back to the workshop in Peterborough and we washed the bikes as you can't turn up to a Grand Prix with dirty bikes! We finished at the work shop at about 2.30am and got back to my house at about 3am and we left at 6am to go to Cardiff."
After a busy night of cleaning bikes and travelling across Britain in the early hours, it was back to work for King and his team with Practice on the Friday afternoon at the iconic venue.
"Practice went really well on the Friday and we were putting in some good times which we were happy with because we knew if we could make the start then we would win races.
"After Practice was finished we had the evening to relax and we went into the city centre for a team meal and just had some downtime. Then I went straight to bed as I was tired as you can imagine and tried to get a good night's sleep which I did."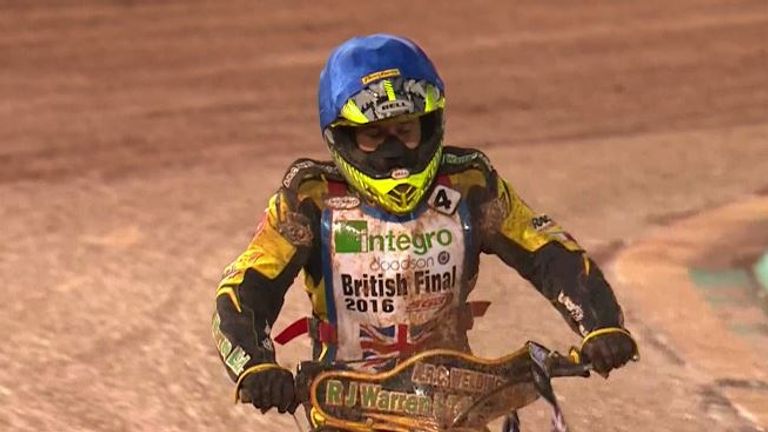 After a relaxing evening in the Welsh capital, the day the Speedway world waits for with much anticipation was upon the Wildcard and the 29-year-old talks us through his build-up to the event.
"Waking up on Saturday I felt good, I don't get much sleep at home with the two kids nowadays but it was nice to have a lay in and not get woken up until I woke up! We went for a nice breakfast and by the time we'd had breakfast and left for the track, my mechanics were already there and set up in the pits.
"I did the usual things like signing on and then me and my good friend Ritchie (Hawkins), who is also my Team Manager at Ipswich, went for a walk in the city to soak up the atmosphere and take my mind off the meeting a little bit really.
"I then went across to the FanZone for a signing session with the fans and that was amazing. I loved what they did there but after that it was back to the stadium for the track walk and then it was time for the meeting."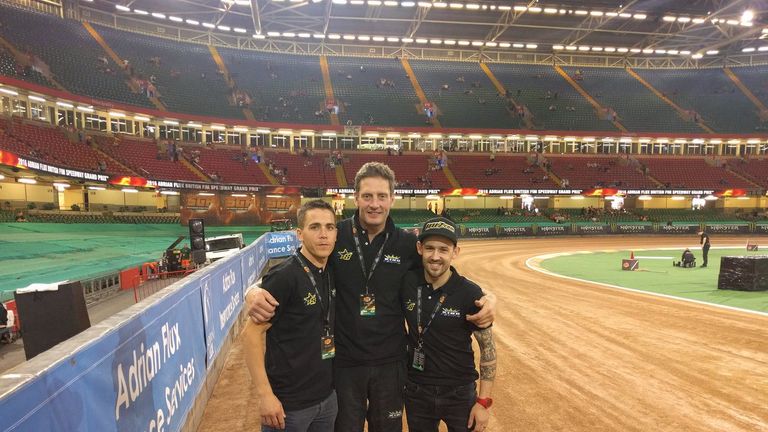 It was King's debut in the Grand Prix against the world's best but after a tough start the Great Britain World Cup star showed he was not out of place at the top table of Speedway. The Maidstone-born rider reviews his evening heat-by-heat.
"I knew it would be tough from the outside in the first heat. I nearly got round Nicki Pedersen into third but with the track the way it was at that stage it was always going to be difficult to pass and you don't pass those guys easily, they are there for a reason, it's the world championship so it's tough.
"Before my second ride they put a lot of water down on the track which we didn't realise as we were trying to rush about in the pits and get the bike ready with two rides on the trot. That caught us out and it was really disappointing to start the way we did, but whether that relaxed me even more or it just gave us more time to get things ready I don't know - but it was a turning point that night and we went on to put a good show.
"The next heat I got second behind Jason Doyle after a tussle with Freddie Lindgren which was good and it was another second place in my fourth ride. In that ride we pulled away from Chris Holder and Peter Kildemand which was good. We had a good ride there and I felt the speed was good in that heat. Piotr Pawlicki who won that heat was fast all night but he couldn't pull away from us so we left the bike after that one.
"In my final heat I made a good start off gate three and we knew there was a bit of dirt there as we had been watching the heats before that and we were out in the third race of the last session. I went straight for that dirt from gate three and it was a bit like the British Final; I generated some speed down the back straight and it was enough to get round the outside of Bartosz Zmarzlik to take the lead and get the win."
King had shown that he has the ability to compete on the world stage and hopes the opportunity will come again one day.
"I absolutely loved it and I'd love to do it again and it's given me a taste of what could be. I enjoyed every minute of it and if I ever get the chance to do it again I'll grab it with both hands."
Watch Wolverhampton v Coventry in the Elite League live on Sky Sports 1 HD from 7.30pm on Monday, August 1.