AJ wins, Hancock champ
Andreas Jonsson won the Croatian GP as American ace Greg Hancock lifted the world championship.
Last Updated: 24/09/11 10:00pm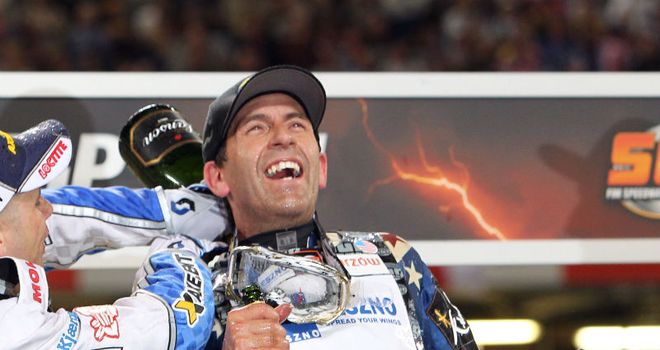 Andreas Jonsson won the Croatian Grand Prix as American ace Greg Hancock lifted the world championship.
Hancock, who went into the meeting with a 31-point lead at the top of the standings, claimed the crown in heat 20 after building up an unassailable advantage over nearest challenger Jaroslaw Hampel.
It sparked wild scenes of celebration, with the veteran - who last won the championship back in 1997 - thrown up into the air on the track by outgoing world champion Tomasz Gollob, former champions Jason Crump and Nicki Pedersen as well as British ace Chris Harris.
An emotional Hancock, who went on to win his semi-final before coming last in the final to record a 15-point haul on the night, said his success had not yet sunk in.
He told Sky Sports: "That doesn't feel too bad. I can't say enough - thanks everybody!
"It'll bed in in a few minutes I think, I'm still pretty much done right now.
"It's been a long time (since he last won). I remember the feeling and I really would like to get used to this - this is just fantastic. Absolutely."
Turned around
Hancock won in Croatia last year and credits that victory as the springboard for his push for the title this season.
"It actually started here in Croatia so to get the world title here - somewhere I kind of felt like I'd turned my career around again - it's awesome," said the 41-year-old, who won the Czech, British and Nordic GPs this year to reach a total of 154 points so far.
Swedish ace Jonsson claimed an all-the-way success in the final in Croatia to also earn his third GP win of the season, after previously being triumphant in the Italian and Torun meetings.
The win and his 18-point haul lifted him into second place overall on 118 points - one point ahead of Hampel, who made the semis - with just the GP in Gorzow in a fortnight's time remaining.
British rider Harris repeated his second-place finish in Croatia last year and earned the most points on the night - 19 - finishing ahead of Fredrik Lindgren in third.
Harris' podium finish was a welcome change of fortune and boosted his hopes of an invitation back into the championship next year.
Harris said: "I've proved again tonight that I'm the best Britain's got at the moment so I just feel I still deserve a wildcard."