Vaculik to miss Vojens
Slovak starlet Martin Vaculik has ruled himself out of the Nordic Speedway Grand Prix in Vojens on Saturday due to high blood pressure.
Last Updated: 16/09/12 1:57pm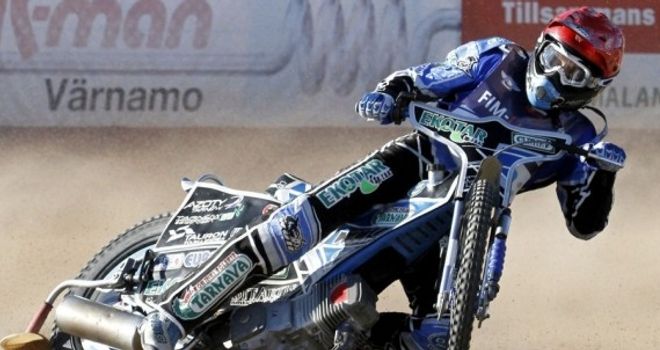 Slovak starlet Martin Vaculik has ruled himself out of the FIM Dansk Metal Nordic Speedway Grand Prix in Vojens on Saturday due to high blood pressure.
Vaculik has starred in the Grand Prix series this term after being called in as a injury replacement for Jarek Hampel - winning his maiden GP in Gorzow.
He was due to continue in the series as replacement for Kenneth Bjerre in Vojens, but he has now revealed he will miss the event in Denmark because of treatment over high blood pressure.
"I may have a problem with blood pressure and the kidneys. So we must check everything and I will spend three days in hospital. Later we will know everything. Maybe I will need some tablets for blood pressure or something," he told speedwaygp.com.
"All the time my blood pressure is around 160 over 90 or something like this. When I feel like this, I can't race because I feel drunk - my head doesn't feel very good.
"It started on the Thursday before Cardiff. I was at the hotel and I felt very, very bad. Later I went to practice and I had some magnesium tablets to bring my pressure down.
"It has been three weeks since Cardiff and I'm still having problems. I've gone to hospital because this is not normal and I have to do something. I will be in hospital until Wednesday. I'm not racing in Poland or Sweden, so 100 percent I will not be in Vojens.
"When we find the problem, I can race again and the results will be much better for me.
"All the time since Cardiff, I've been thinking about my health problem and my results were okay when I felt better. But when I didn't, the results were worse. I want to make my results the best all the time and that's why I'm going to hospital to try and find the problem."
Sorry
Vaculik, who is one of the favourites to win the GP Challenge at Gorican on September 29, hopes to get back into action as soon as possible and apologised for having to miss big meetings for his clubs.
He said: "I'm so, so sorry I can't be in the Polish league, Swedish league or Grand Prix. But this problem I've had since Cardiff affects my results.
"I feel really very bad. If I felt normal, I wouldn't go to hospital. The fact I'm in hospital means something.
"I'm a professional sportsman and I want to be at my maximum all the time. But now, with my condition, I can't do that.
"I want to do that and that's why I have made the decision to go to hospital, have some tests, check everything in my body and find where the problem is with the blood pressure.
"Later I can come back much stronger and I think I'll be a much better rider because my head will be clear and I'll know what happened. Then I can win everything again."
Vaculik's news comes in the same week as British star Chris Harries revealed he had health issues suffering from an irregular heart-beat.