Belle Vue Aces are positive about plans for the National Speedway Stadium
Belle Vue Aces are positive about their plans to build a new home - the National Speedway Stadium.
Last Updated: 04/10/12 5:06pm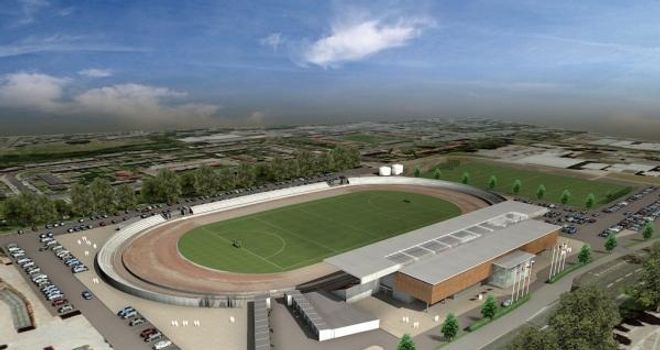 The Aces had hoped to have the stadium up-and-running by July 2013 to bring World Cup speedway racing to Manchester.
While the target for the new stadium has moved and there are no specific dates, managing director David Gordon is hopeful they are back on track to achieve a new programme for the venue.
He told the outfit's official website: "I have made no secret of the fact that our target for the new stadium did move because of the amount of detailed negotiation.
"But there is a new programme now and hopefully we are back on track to achieve it. We are in a very serious process with Manchester City Council and it is a process which cannot be hurried.
"It must be remembered that we are not the only ones involved in the plans for the Belle Vue Sports Village and they must complete their processes as well. But our other partners are very much on board with us in completing this matter."
He added: "I'm not in a position to talk about specific dates but, as I have said, we are aiming for new targets and we are hoping for the final green light in the very near future."
Fact-finding
Gordon, operations director Chris Morton and Steve Casey and Ian Corcoran, members of the Belle Vue new stadium executive team, are heading to the final FIM Torun SGP of Poland this weekend on a fact-finding mission.
He added: "Chris and I have already been there, as well as other Grand Prix venues, on fact-finding visits. We want Steve and Ian to come along as well so they can see at first hand how a major meeting, like the one on Saturday, is arranged and presented and how the stadium operates.
"It will be a chance for them to see and learn what goes on behind the scenes at a Grand Prix. It will be knowledge that will serve them well at Belle Vue in the future. They are part of the team who will be taking Belle Vue forward at the new stadium.
"Chris and I have learned lot by attending various international events since we started talking about the new stadium project in August 2006, even before we bought Belle Vue.
"Now it is important that more of our people observe what happens at close quarters and that is the main purpose of us all going to Poland this weekend.
"In addition, the visit to Torun will enable us to maintain our relationship with the FIM and BSI. It is important that we keep them informed of our progress and, to this end, we had a very positive meeting with BSI Managing Director, Paul Bellamy, at the recent British GP in Cardiff."