Exclusive: Australian speedway legend Jason Crump speaks to Sky Sports ahead of his farewell Grand Prix appearance
Jason Crump spoke exclusively to Sky Sports ahead of his farewell appearance in the Speedway World Championship.
Last Updated: 05/10/12 4:23pm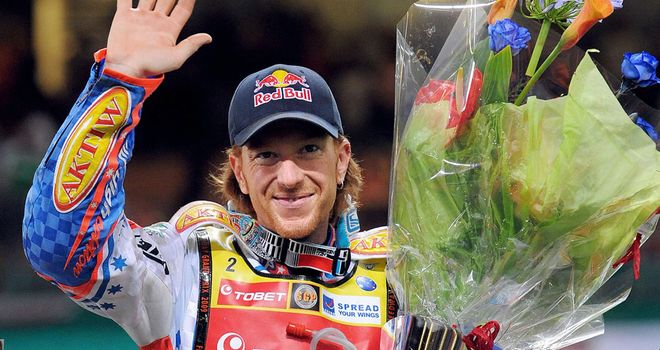 The 37-year-old three-time World Champion will ride his last Grand Prix ever on Saturday in Torun, Poland - which you can see live on Sky Sports 3HD.
Whilst Crump will continue riding in domestic leagues, the Australian will no longer compete at the highest level and he quits as the great GP performer of all time after 144 rounds and 17 years in the competition.
Speaking to Sky Sports News Radio, he said: "After so long in the series it is still a difficult decision, but you know the time is right when you can no longer perform at the level you want and all things considered I have done well to stay for 17 years and it is time to move on.
"It is a tough series and it is not just the GP series but all the other racing around Europe, a typical season for a speedway rider is over 100 meetings.
"I don't want to finish everything, but with the World Championship so good and some good new ones it is time to move away."
Crump admits he has seen a lot of changes in the sport during his nearly a quarter-of-a-century at the top.
"The machinery has changed a bit, some regulations - some that I have agreed with and some that I haven't but the best things I have seen is air fences," he said.
"Over the course after 17 years you notice a lot of difference in safety equipment too."
It is also easy for Crump to pick out a career highlight, with that being his maiden title in 2004.
"I have been very fortunate to win the World title three times, the first one took a bit of time as I had finished second three times but it was good to get the monkey off my back in 2004," he continued, admitting he would love to finish on a win on Saturday.
"If I could do that it would be a dream way to finish, but I think my form has only been going one way in the last few years. I am proud of my career in GPs, I can't look back and think anything has been a disaster, on the whole I think I can be very happy when I walk away.
"I think there will be a few big guys getting out of it as well, but on the other hand there are a lot of good young guys who are capable of stepping in and taking speedway to a new level."
Catch the whole interview with Jason Crump at the Sky Sports News Radio website - Listen to Jason Crump interview and click on the highlights page.