Gary Patchett says manager Alun Rossiter was a key factor in Swindon's success
Gary Patchett has paid tribute to team manager Alun Rossiter after the Robins ended their long wait for a title.
Last Updated: 23/10/12 11:04am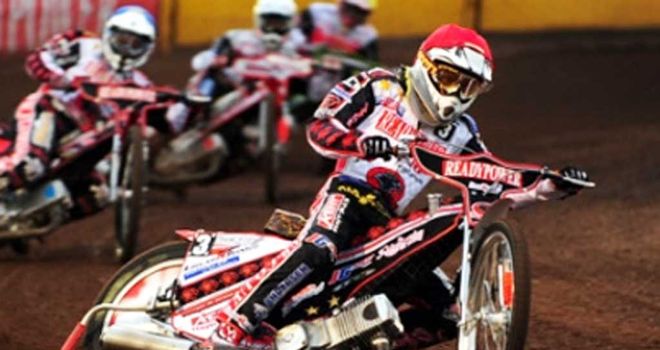 Rossiter returned to Blunsdon last winter after two years with Coventry, ironically having won the 2010 Elite League with the Bees at Poole before repeating the feat with his hometown club.
And Patchett said: "It's been a team effort and we've had ten great guys in the team who have all done their bit, but Rosco's enthusiasm is infectious.
"I was disappointed when he left the club in 2009 but he had good reasons for doing that, and it's great to have him back. He's a great guy to work with, he's a very close friend, and we just bounce off each other.
"As soon as we got the result beyond doubt, after we had said a bit to the riders, the first people I wanted to share this with were the fans.
"They've been fantastic and stuck by us through thick and thin over the last two years. They really are our eighth man on our travels and they're a credit to the club."
Swindon more solid
Poole skipper Chris Holder said a lack of lower-end strength was the deciding factor in the Pirates having to settle for the runner-up's spot.
The Pirates topped the regular table for the third year running but could not match a more solid-scoring Swindon side in the Grand Final.
Holder said: "I think the top three guys did our job, but the other three just didn't do well enough. You can't win a final if you are not scoring points all through.
"Three guys can maybe win a meeting sometimes, but against a top team like Swindon over two legs it is never going to happen. They were more solid all the way through and that is what you need to win these things."