The Monster Energy World Speedway Invitational has been confirmed for America later this year
The biggest speedway event to take place in America in decades has been confirmed.
Last Updated: 14/11/12 8:40pm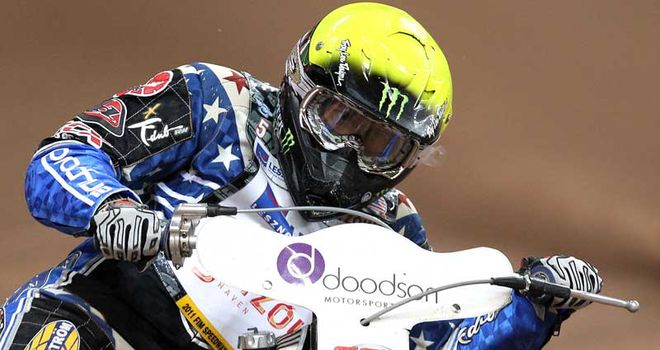 A host of FIM Speedway Grand Prix stars past and present descend on California on December 29 for the Monster Energy World Speedway Invitational in the City of Industry.
The meeting will feature American legend and double world champion Greg Hancock. He will be joined by 2010 SGP champ Tomasz Gollob and the USA's 1996 world champ Billy Hamill. Grand Prix trio Emil Sayfutdinov, Antonio Lindback and Freddie Lindgren will also be amount the favourites.
Record seven-time British champion Scott Nicholls, 2011 World Under-21 champion Maciej Janowski, Team GB international Edward Kennett and American racer Ricky Wells are also set to appear.
Billy Janniro, Tyson Burmeister, Bryan Yarrow, Charlie Venegas, Gino Manzares and Jimmy Fishback will also fly the American flag.
The City of Industry's indoor Grand Arena will host the action on a tight and technical, eighth-mile track, giving the SGP big guns half the shale they are used to competing on in the World Championship.
The meeting will be contested using the current SGP format, which sees all 16 riders meet each other over 20 heats, with the top eight reaching the semi finals and the first two in those races contesting the final. Industry Racing track director Kelly Inman is delighted to host such a prestigious line-up.
He said: "Speedway is experiencing a resurgence in the US. The significance of this event for speedway racing in this country is incredible as these are the best riders in the world.
"This is a one-of-a-kind chance for fans to be introduced to a new calibre and level of racing like they've never seen before. The same can be said for the American competitors, who wouldn't otherwise get a chance to race against their European counterparts."
Bruce Stjernstrom, vice president of sports marketing for Monster Energy, says the event comes as another boost to the burgeoning American speedway scene.
He said: "To invite a number of the world's best speedway riders - many who won GPs in the 2012 FIM Speedway Grand Prix series - to the United States and have them line-up against a host of highly competitive racers from America is unprecedented.
"Speedway racing is really a global sport, with its largest fan base residing throughout Europe. However, the sport's roots are very rich in Southern California, as well, which is why we made the decision to hold such a prestigious event here."