Poole Pirates have vented their anger as Piotr Pawlicki was handed a seven point average under new rules
Poole Pirates have slammed new rules which has seen Piotr Pawlicki handed a seven point average.
By Graeme Bailey - Tweet me: @graemebailey
Last Updated: 28/11/12 6:36pm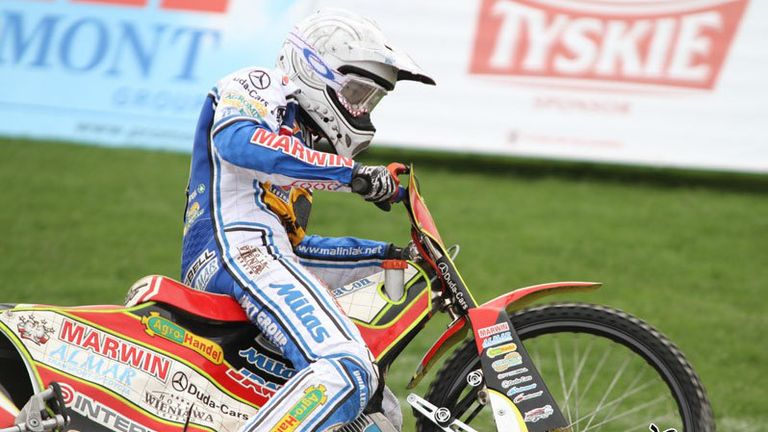 Previously if a rider from abroad came to ride in Britain, there was a format already in place depending on his previous experience and ranking in other European leagues.
However, some clubs gained advantage by signing riders on low averages who were clearly capable of much higher - to combat this practice the BSPA have the BSPA has asked an independent arbitrator to make a rulings on each case.
A list, which has not been made public, has been sent to promoters covering a number of possible foreign recruits and Pawlicki's average has emerged as a seven, which puts him out of Poole's plans.
The teenager served a successful spell with the Pirates towards the end of last season after joining on four point average, but didn't race enough meetings to achieve a real average - meaning he was still on an assessed average, which has now come under the new arbitrator.
That means Pawlicki is on a higher average than highly-rated youngsters such as his brother Przemyslaw (6.95), World Under-21 champion Michael Jepsen Jensen (6.54) and Polish international Maciej Janowski.
Swindon are also believed to have been told that possible new signing Tobiasz Musielak would be a six - which again means he is unlikely to be signed by them.
However, it is also being claimed that new World Under-21 champion Mikkel B Jensen could be available on just a five point average.
"We had opened negotiations with Piotr Pawlicki but, unfortunately, under no circumstances can we, nor will anybody else, use him on a seven-point average," Ford told the He told the Bournemouth Daily Echo.
"I think the new grading system for riders is an absolute farce and totally ridiculous. But, again, you are going to have to let a lack of new movement coming into the sport now go to prove just how crazy the whole situation will be.
"The figures being put upon some of the riders are just quite simply unbelievable. There are riders there that have been assessed on higher grading averages than Dennis Andersson (5.43), who has had two years in British speedway and is in the main team in both Poland and Sweden.
"Yet there are riders who have never once been out of a reserve berth in Sweden that have been assessed with a higher average than Dennis.
"Without a shadow of a doubt, my opinion is that this rule will be changed within its first 12 months in British speedway."
Meanwhile, better news for Poole was that they have completed the signing of Kyle Howarth for 2013 - their first signing for the new season.
Howarth will continue to double up with Workington Comets in the Premier League.
"I have always been impressed by Kyle's attitude and commitment and he has potential that I believe we can tap into. I do rate him highly and that is precisely why I signed him when he was riding for us under the Buccaneers banner," said Ford.
"He has continued to make good progress in the sport and with a bit of nurturing from the more experienced personnel at the club he has the ability to become a very useful rider. Gaining more experience at Elite League level will do his career no harm and I don't think the pressures of riding top flight really faze him."