Chris Holder and Darcy Ward agree terms with Poole Pirates for 2013
Poole have retained star Australian duo Chris Holder and Darcy Ward for the 2013 Elite League season.
Last Updated: 10/12/12 8:56am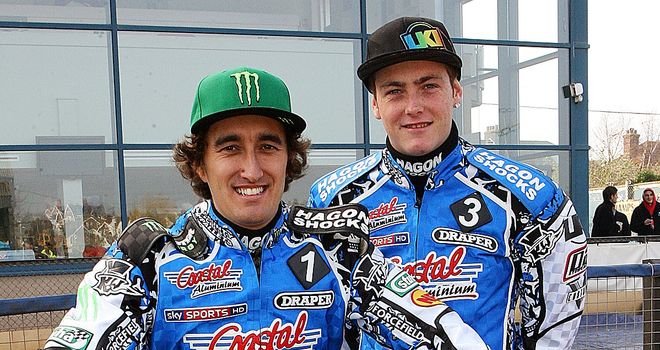 Holder and Ward - know as the Turbo Twins, and the most feared pair in the Elite League - topped the averages this year.
Holder also became World Champion, and Ward is set to join him in the Grand Prix series in 2013 after being handed a wild card.
There was some doubt about the pair being seen back in Poole colours together, with Ward admitting he was unsure about continuing riding in England - but he has now agreed terms.
Poole's promoter Matt Ford said: "I think this is the news that many of our fans have been waiting for and I am delighted to say that terms have been agreed with both Chris Holder and Darcy Ward - arguably the two 'must-see' riders in the world - to continue their careers with the Pirates.
"Without a shadow of a doubt they were the backbone of the team last year.
"They provided us all with so many amazing moments, pulling out rides that clinched last-gasp victories and had us on the edge of our seats as we wondered just what thrilling moves they could deliver.
"There was a lot of talk and speculation that one or other of them wouldn't be back, but they were both very keen to stay with us and it is terrific that they both will be wearing the skull and crossbones in 2013."
Ford then tempered the great news by admitting that Krzysztof Kasprzak - who has since agreed a deal with Coventry - would not be back.
"It is a real shame that we have had to go without Krzysztof Kasprzak for next season. He was wonderful for the club last year when we brought him in to replace Adrian Miedzinski and I really do feel that he won many more admirers with the manner in which he committed himself to the cause. I can't praise him highly enough and had the numbers worked out for us then I would not have hesitated to have him in the side too.
Holder who last year moved into the top 10 all-time Poole point scorers admitted: "For me, Poole are the best club on the planet. I'm world No 1 and Poole are the No 1 team. It was a no brainer."
"I am an Aussie through and through, but since coming to Europe in 2006, Dorset has become my second home. Even my son Max was born here in March."
With last year's number one Ward (9.76) and world champion Holder (9.67) as confirmed starters the Pirates side is now taking shape as the club have also named Robert Miskowkiak (5.81) and Kyle Howarth (3.07) amongst their starting seven and Ford also advised that he was expecting to have another two names to add to the list within the next week.