Grand Prix Speedway: Russian Emil Sayfutdinov takes European Grand Prix title
Russian Emil Sayfutdinov swept to victory at the European Grand Prix in Bydgoszcz.
By Graeme Bailey - Tweet me: @graemebailey
Last Updated: 22/04/13 9:00am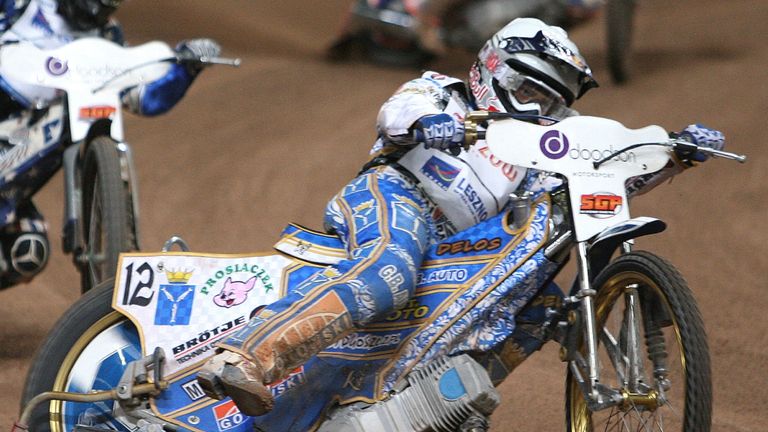 The former Coventry Bees man only won one race in the qualifying section and only just squeezed through on nine points, but he made no mistake in the latter stages winning his semi and then the Grand Final.
"I am very happy, thanks to all the fans," said the young Russian after taking the chequered flag.
Going into the final and home hero Tomasz Gollob was favourite after showing his brilliance throughout the night - winning four of his five qualifying races and then his semi-final.
But Gollob was relegated to third in a dramatic final by Matej Zagar. The Belle Vue number one made the gate but Sayfutdinov made a swoop around the outside and was followed by Woffinden.
With Sayfutdinov gone, Gollob reeled in Woffinden before looking to swoop on Zagar - but the Slovenian held on for a brilliant second place in his first ever GP final.
Stunning
Woffinden came last in the final, but he can be more than happy with his efforts as he produced some stunning rides to hit 12 points through the qualifying stage, before knocking out Darcy Ward and Nicki Pedersen in his semi-final which Sayfutdinov won.
Dane Niels Kristian Iversen and world champion Chris Holder bowed out in the other semi, as some big names failed to make the latter stages.
Indeed the winner of the New Zealand Grand Prix, Jarek Hampel and one of the favourites to win in Bydgoszcz - went out on eight points.
Overall, it was a bad night for the Poles as Krzysztof Kasprzak failed to win and wild card Krzysztof Buczkowski was never really on the pace for his six points.
Former world champion Greg Hancock just missed out on eight points too, and he will be looking for a big improvement ahead of the next GP in Sweden in two weeks.
BYDGOSZCZ SGP SCORES: 1 Emil Sayfutdinov 15, 2 Matej Zagar 14, 3 Tomasz Gollob 16, 4 Tai Woffinden 14, 5 Darcy Ward 13, 6 Nicki Pedersen 10, 7 Chris Holder 10, 8 Niels-Kristian Iversen 9, 9 Jaroslaw Hampel 8, 10 Greg Hancock 8, 11 Krzysztof Buczkowski 6, 12 Martin Vaculik 4, 13 Andreas Jonsson 4, 14 Fredrik Lindgren 4, 15 Antonio Lindback 3, 16 Krzysztof Kasprzak 0, 17 Szymon Wozniak DNR, 18 Mikolaj Curylo DNR.
WORLD CHAMPIONSHIP STANDINGS: 1 Tomasz Gollob 31, 2 Darcy Ward 25, 3 Jaroslaw Hampel 23, 4 Tai Woffinden 23, 5 Nicki Pedersen 22, 6 Emil Sayfutdinov 21, 7 Chris Holder 19, 8 Greg Hancock 19, 9 Matej Zagar 19, 10 Niels-Kristian Iversen 16, 11 Andreas Jonsson 15, 12 Fredrik Lindgren 12, 13 Antonio Lindback 9, 14 Martin Vaculik 9, 15 Krzysztof Kasprzak 6, 16 Krzysztof Buczkowski 6, 17 Jason Bunyan 1.