Grand Prix Speedway: British star Tai Woffinden wins Czech Grand Prix
Newly crowned British champion Tai Woffinden rounded off a memorable week as he claimed his maiden GP victory.
By Graeme Bailey - Tweet me: @graemebailey
Last Updated: 19/05/13 8:59am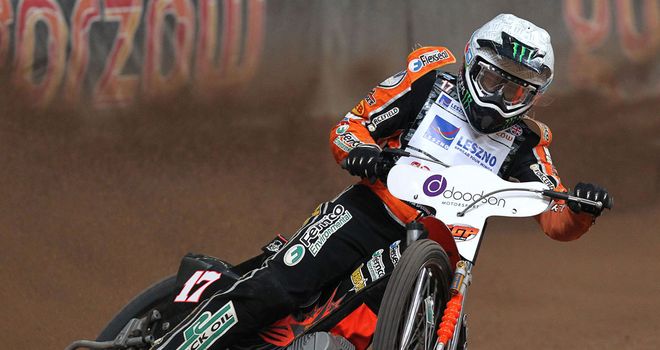 Woffinden had made his third successive Grand Final in Prague and he made no mistake as he claimed victory ahead of surprise package Krzysztof Kasprzak and Danish legend Nicki Pedersen.
Russian star Emil Sayfutdinov also made the final and he indeed had first pick taking the much coveted gate two, but he touched the tapes and was excluded, which opened up the way for Woffinden - and he took the chance with both hands.
Off gate one Woffinden flew from the start and never looked back as he powered away to his maiden GP success, as Kasprzak battled past Pedersen - who fell on the final lap.
The win for Woffinden meant he finished the meeting with 19 points, but he is still one point behind Sayfutdinov - who led the qualifying heats and is the new leader of the World Championship.
Sayfutdinov had easily qualified for his semi ahead of Kasprzak, who did brilliantly to eliminate Swedish pair Freddie Lindgren and Andreas Jonsson.
Woffinden rode brilliantly to win his semi as he pipped Pedersen on the line after battling with the Dane for all four laps as Matej Zagar and Jarek Hampel went out.
Woffiden, who is the first Brit to win a GP since Chris Harris in 2007 and only the second to win on foreign soil after Mark Loram, was delighted to win in the same week in which he captured his first ever British title.
"It has been amazing," he told EuroSport. "British Championship on Monday and first Grand Prix win, so I am super pumped and nearly lost for words, and thanks to all the fans there are a few British flags so great to see."
Woffinden is now geared up for the British GP which is in Cardiff early next month, and he added: "Cardiff is going to be massive and the backing I am going to get there is massive."
The series' previous leader was veteran Polish star Tomasz Gollob, but he endured one of his worse nights in recent times as he claimed just three points - which puts him back down to fifth in the pecking order.
It was also a poor night for defending world champion Chris Holder as he failed to make the latter stages as he scored just seven points and missed out on count back.
MITAS CZECH SGP SCORES: 1 Tai Woffinden 19, 2 Krzysztof Kasprzak 12, 3 Nicki Pedersen 11, 4 Emil Sayfutdinov 17, 5 Fredrik Lindgren 11, 6 Matej Zagar 10, 7 Andreas Jonsson 9, 8 Jaroslaw Hampel 8, 9 Chris Holder 7, 10 Niels-Kristian Iversen 7, 11 Greg Hancock 7, 12 Martin Vaculik 6, 13 Antonio Lindback 5, 14 Tomasz Gollob 3, 15 Ales Dryml 3, 16 Josef Franc 2, 17 Vaclav Milik DNR, 18 Zdenek Holub DNR.
WORLD CHAMPIONSHIP STANDINGS: 1 Emil Sayfutdinov 55, 2 Tai Woffinden 54, 3 Jaroslaw Hampel 46, 4 Nicki Pedersen 45, 5 Tomasz Gollob 43, 6 Chris Holder 40, 7 Matej Zagar 38, 8 Greg Hancock 34, 9 Tomasz Gollob 33, 10 Fredrik Lindgren 28, 11 Andreas Jonsson 27, 12 Krzysztof Kasprzak 25, 13 Darcy Ward 25, 14 Antonio Lindback 22, 15 Martin Vaculik 18, 16 Krzysztof Buczkowski 6, 17 Linus Sundstrom 6, 18 Ales Dryml 3, 19 Josef Franc 2, 20 Jason Bunyan 1.