Gorzow Speedway GP: Tai Woffinden in dilemma whether to race
British ace Tai Woffinden admits he is in a dilemma whether to ride in Saturday's Speedway Grand Prix in Poland.
Last Updated: 15/06/13 6:05pm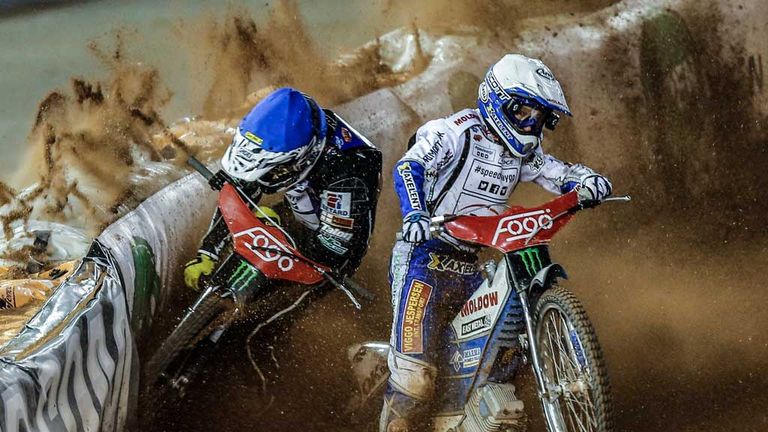 Woffinden has not raced since suffering a shattered collarbone in the British SGP on 1st June and has been warned a crash would affect the surgery he has undergone.
But with the 22-year-old sitting just eight points off Emil Sayfutdinov at the World Championship summit, he is sorely tempted to race in Poland and will leave his decision as long as he can.
He told the SGP official website: "The doctor said it will take six to eight weeks for it to be fully healed. I don't know. I'm probably thinking three. I'm undecided about Gorzow. I'll wait and see how I feel.
"The surgeon said the plate is holding the bone together, but if I pulled it, there is a high chance the screws will pull out which would be a drama. That would mean me having another operation.
"I'm in an awesome position and I don't want to let it slip. I'm surprised I'm still in second, to be fair. I was pretty gutted when I crashed, so I was a bit shocked to come out of hospital still in second.
"But we'll just have to wait and see whether I can ride at the weekend."
Desperate
Woffinden is desperate to get back into the action as soon as he can.
He said: "It's part of the job. You get over it and get on with it. The sooner I'm back on a bike, the better. I want to be back racing for Wolverhampton and Wroclaw and in the World Championship again.
"Time is of the essence at the moment. I really need to let it heal, but I'm second in the world and I don't want to let that slip. It's a tough one. I've got a broken bone and I'm in pain - that's a factor in it as well.
"Over the last week, I've been focusing on eating all healthy food - no bread or pasta, or any of that rubbish. I'm giving my body everything it needs to recover, but I can only do so much. Then it's down to my body to do the rest.
"I've had some laser treatment and magnetic field therapy. I had a bit physio on my neck on Monday, Tuesday and today. I have been in an oxygen chamber every day this week. I hope it all pays off."
Whilst Woffinden will race, Australian hotshot Darcy Ward has confirmed he will not race in Gorzow and will again be replaced by first reserve Ales Dryml.
The Queenslander is still battling to overcome the broken shoulder blade he suffered in the Fogo Swedish SGP on May 4.
Dryml lines up in the No.19 race jacket once again after covering for the Poole, Torun and Dackarna rider in Prague and Cardiff.