Speedway Grand Prix: Tai Woffinden staying calm ahead of possible World Championship glory
Speedway world champion elect Tai Woffinden is refusing to look beyond this weekend's Grand Prix in Stockholm.
Last Updated: 19/09/13 3:12pm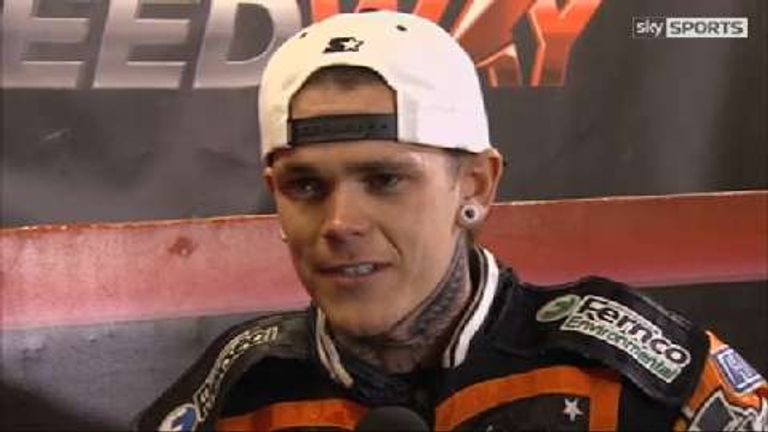 The Wolverhampton rider, who was born in Scunthorpe and started his career with his local club, is 22-points ahead of nearest competitior Jarek Hampel going into the Rockklassiker Scandinavian FIM Speedway Grand Prix in Stockholm's magnificent Friends Arena on Saturday.
It would have been 20, but Russian star Emil Sayfutdinov who is currently second has been ruled out for the remaining weeks of the season.
But 'Woffy' is keeping his feet firmly on the ground and has spent the week trying to relax before flying out to Stockholm.
He said: "I'm pretty relaxed to be honest, I sound boring when I say it, but I'm just trying to treat Saturday the same as any other meeting.
"All I can say is that I will go there and do my best and see if that's good enough. I will try and win races and if that's enough to win the world title then great - if not we go to Torun for the last round.
"It's everyone else who seems to be talking about me being world champion, but none of that has come from me. I'm staying focused on the job I have to do and that is to win races on Saturday night.
"I'm feeling pretty good, I had a good round in Slovenia where it could hardly have gone any better for me and the same again on Saturday would do my nicely!
"I know what I can achieve, I appreciate that, but I'm just trying to stay cool and I've been out on the motorcross bike this week which is something I've enjoyed doing.
"I've had a lot of calls and that's understandable, but there have been times when I've just wanted some time to myself to relax and that way I don't feel any pressure.
"I'm actually looking forward to racing on Saturday night although none of us know what to expect from the track because it's a temporary one."
Caution
And another reason Woffinden is staying cautious is that Saturday's meeting is indoor, on a temporary track.
"I've not done well on the indoor tracks this year. I didn't do well in Copenhagen and I broke my collarbone at Cardiff," he continued.
"My world championship bid could have been over as I was taken into the ambulance in Cardiff and went for surgery shortly afterwards.
"It was a bad crash and I knew I was hurt immediately, but thankfully the operation worked well and I was able to get back on the bike pretty quickly.
"It's not something I'm too concerned about, but again it's another reason to be sensible in my approach to the meeting.
"The other riders are in the same position as me in that they will be riding the track for the first time and we all start with the same disadvantage from that point of view.
"It's not something I think about too much, I'm just going there to make the start and win races. I'm going to be sensible and calculated whenever I need to be and hope that sees me through to a good score.
"And I can't afford to become too concerned about the other riders, I will just focus purely on my own riding and see if that proves to be good enough. I'm looking forward to it."