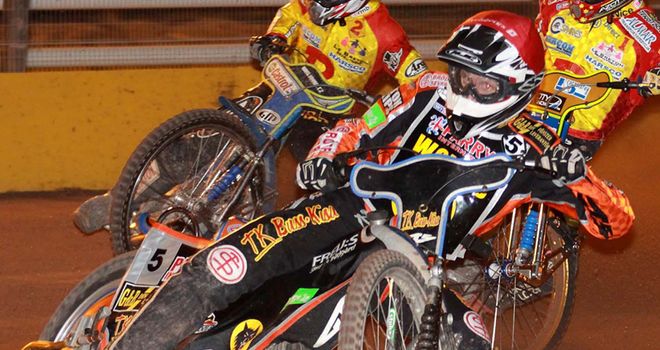 Wolverhampton Wolves legend Peter Karlsson showed he can still live with the best of capturing the Banks's Olympique Classic at Monmore Green.
Karlsson, who will be leading the Lakeside Hammers again this season, saw off World champion and fellow Black Country favourite Tai Woffinden to scoop the honours in one of the biggest individual events in British speedway.
It completed a remarkable recovery for the 44-year old-after he suffered a broken vertebra in the closing weeks of 2013.
"I'm very happy – everything came good as the meeting went along and I was just so pleased to end up on the top of the rostrum," said Karlsson.
"I felt stiff and not so fast in the first couple of races but I made some changes on the night, got a bit looser and by the end I felt more like myself.
"It's a nice way to get the season started and a very positive night.
"It was a new thing for me really having to come back from that bad injury over the winter.
"I've been very lucky in that I've not been injured too much during my career and this was probably the worst one I've had.
"But I knew in myself and in my body I was OK and I'm pleased that's put behind me now.
"I'm just looking forward to this season now and looking to keep going after getting off to a good start."
Woffinden, who finished second, said "It was a great night for me – I'm happy with a second place and just looking to push on from here.
"I've started the season pretty well which I'm happy with so I'll just look ahead to the next meeting and hopefully go from strength to strength.
"Fair play to PK – it's great to see a rider of his age still so enthusiastic about the sport and performing like that. 
Swindon's Danish star Peter Kildemand rounded off the top three as he defeated the impressive Scott Nicholls in a run-off for third.
Result in full:
1 Peter Karlsson 14
2 Tai Woffinden 13
3 Peter Kildemand 11
4 Scott Nicholls 11
5 Ricky Wells 10
6 Przemyslaw Pawlicki 10
7 Piotr Pawlicki 9
8 Adam Skornicki 8
9 Jacob Thorssell 7
10 Freddie Lindgren 6
11 Nicolai Klindt 6
12 Danny King 5
13 Patrick Hougaard 4
14 Ashley Morris 3
14 Ty Proctor 2
15 Joe Jacobs 1
16 Tom Perry (reserve) 1