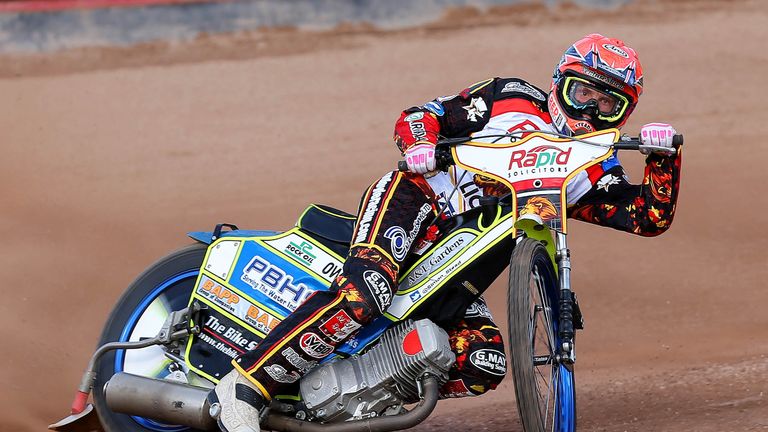 Leicester Lions claimed their first ever Elite League victory as they beat league leaders Lakeside Hammers 48-41 at Beaumont Park.
It was the fourth time of asking for the Lions as they overcame a strong challenge from the high-flying Hammers.
Results and scorers:
Leicester Lions 48
1. Jason Doyle 10+1
2. Peter Ljung 8
3. Mads Korneliussen 7
4. Simon Stead 7
5. Patrick Hougaard 7+3
6. Tom Perry 6+1
7. Max Clegg 3
Lakeside Hammers 41
1. Peter Karlsson 6+1
2. Richard Lawson 8+2
3. Davey Watt 5
4. Mikkel Bech 12
5. Lewis Bridger 4+1
6. Ben Morley 3+1
7. Adam Ellis 3
---------------
Eastbourne Eagles 50
1. Bjarne Pedersen 4+1
2. Timo Lahti 8
3. Joonas Kylmakorpi 10
4. Mikkel Michelsen 7+3
5. Cameron Woodward 7+2
6. Lewis Blackbird 9+2
7. Daniel Halsey 5+1
Belle Vue Aces 43
1. Matej Zagar 11+1
2. Michael Palm Toft 1
3. Scott Nicholls 17+1
4. Richie Worrall 8+1
5. Craig Cook R/R
6. Stefan Nielsen 4
7. Ben Reade 2
The lead exchanged hands in the opening heats before back-to-back maximums in Heats 9 and 10 proved decisive for Leicester.
Simon Stead eventually won the match for Leicester in Heat 14 with a crucial overtake on Mikkel Bech prevented Lakeside from gaining a 4-2, which would have set-up a last heat decider - but in the end Leicester prevailed.
Stead finished the night on 7, the same as Mads Korneliussen (7) and Patrick Hougaard (7+3), but all of Leicester's top-five performed well with Jason Doyle leading them home with 10+1 and Peter Ljung claiming 8.
Mikkel Bech was again in great form for Lakeside with 12, but only Richard Lawson (8+2) was able to provide any meaningful back-up as the visitors missed out on an away point which they no doubt felt they could and should have secured.
They did suffer an early blow when their top-draft reserve Adam Ellis was forced to withdraw from the meeting after just two rides.
With Leicester winning, Belle Vue Aces remain the only team without a point or a win in the Elite League as they lost 50-43 at Eastbourne Eagles - who were made to work hard for maximum points at Arlington.
Eastbourne started well and were 12 points up after seven heats, but then Scott Nicholls inspired a Belle Vue come-back. He secured a tactical win for a 6-3, before the away side reeled off three further heat advantages, including a 5-1 in Heat 11 which actually took them into the lead.
The Eagles responded with their own maximum, but going into the last heat Belle Vue trailed by just three - but another 5-1 secured the points for Eastbourne, although The Aces will leave the South Coast disappointed to still be pointless.
Joonas Kylmakorpi took the heat win in the final heat and he lead Eastbourne home with his 10 point haul, but he had good back-up from his fellow Finnish international Timo Lahti (8) along with Mikkel Michelsen (7+3) and skipper Cameron Woodward (7+2). Their draft pick Lewis Blackbird was by far the best reserve on show with paid 11.
The undoubted star of the evening, though, was Nicholls with his paid 18 and Matej Zagar produced good back-up with 11+1 but they just missed out on taking something from the match.
The three league points sees Eastbourne close to within three points of Lakeside.