European Grand Prix: Krzysztof Kasprzak scores first ever GP victory
Krzysztof Kasprzak delighted his home Polish crowd by scoring a thrilling win in the European Grand Prix.
Last Updated: 27/04/14 7:41pm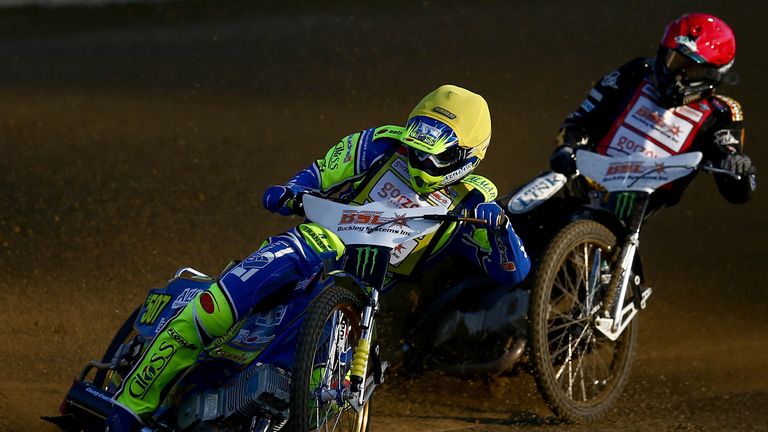 Kasprzak produced a daring move on the last bend to snatch victory from Darcy Ward in the final and it also saw him end the night with an 11-point lead at the top of the world championship standings after two meetings.
The Pole had racked up four wins out of five in the heats but his hopes of a first ever Grand Prix win looked in doubt in the semi-finals before he managed to scrape through in second place behind compatriot Jaroslaw Hampel.
And in a dramatic final, he again looked set to be edged out before taking Darcy on the inside as the two riders burst around the final bend.
As well as the victory, Kasprzak also finished top scorer on the night, racking up 18 points from his seven races in the rainy conditions in Poland.
He now has 35 points from the meetings in New Zealand and Poland and enjoys a healthy lead over Nicki Pedersen (24), Hampel (22) and Greg Hancock (22).
Hancock, the world champion in 1997 and 2011, again rolled back the years in the early heats, the 43-year-old racking up three opening victories.
Another vintage display saw the American win the second semi but he was upstaged in the final, finishing fourth.
World Champion Tai Woffinden had a difficult night and failed to make the top eight who contested the two semi-finals.
The 23-year-old from Scunthorpe was last in his opening race and it didn't get much better from there as he scored just five points from his five races.
WORLD CHAMPIONSHIP STANDINGS: 1 Krzysztof Kasprzak 35, 2 Nicki Pedersen 24, 3 Jaroslaw Hampel 22, 4 Greg Hancock 22, 5 Chris Holder 22, 6 Martin Smolinski 22, 7 Darcy Ward 21, 8 Fredrik Lindgren 18, 9 Andreas Jonsson 17, 10 Niels-Kristian Iversen 16, 11 Kenneth Bjerre 15, 12 Tai Woffinden 12, 13 Matej Zagar 12, 14 Troy Batchelor 8, 15 Adrian Miedzinski, 16 Chris Harris, 17 Jason Bunyan.
BYDGOSZCZ SCORES: 1 Krzysztof Kasprzak 18, 2 Darcy Ward 16, 3 Jaroslaw Hampel 14, 4 Greg Hancock 16, 5 Chris Holder 11, 6 Andreas Jonsson 10, 7 Niels-Kristian Iversen 10, 8 Martin Smolinski 7, 9 Matej Zagar 6, 10 Adrian Miedzinski 5, 11 Tai Woffinden 5, 12 Nicki Pedersen 5, 13 Fredrik Lindgren 5, 14 Troy Batchelor 4, 15 Kenneth Bjerre 4, 16 Chris Harris 2, 17 Szymon Wozniak DNR, 18 Pawel Przedpelski DNR.