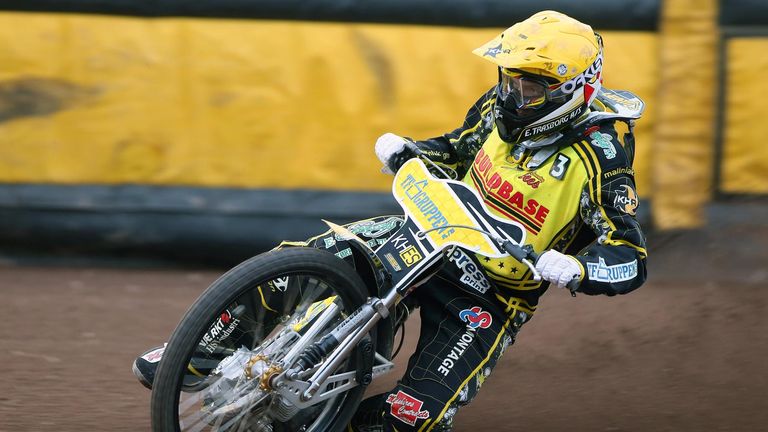 Coventry Bees stunned reigning champions Poole Pirates as they claimed a 48-47 win at Wimborne Road.
The Bees produced a wonderful late surge on the south coast to claim an away success.
Results and scorers
Poole Pirates 47
1. Darcy Ward 10+1
2. Josh Grajczonek 7
3. Przemyslaw Pawlicki 11
4. Vaclav Milik 6+1
5. Maciej Janowski 6+1
6. Kyle Newman 5+1
7. Ben Hopwood 1', 0, 1' = 2+2
Coventry Bees 48
1. Hans Andersen 11+2
2. Kyle Howarth 7+1
3. Ryan Fisher 0
4. Kenneth Hansen 13
5. Chris Harris 8
6. Jason Garrity 9+2
7. James Sarjeant 0
--------------
Birmingham Brummies 52
1. Danny King 8
2. Nico Covatti 7+1
3. Ben Barker 12+1
4. Daniel Nermark 9+1
5. Nick Morris 5+2
6. Paul Starke 8+1
7. Simon Lambert 3+2
Eastbourne Eagles 44
1. Bjarne Pedersen 14
2. Timo Lahti 5
3. Steve Worrall 4
4. Cameron Woodward 12+2
5. Joonas Kylmakorpi 1
6. Lewis Blackbird 8
7. Daniel Halsey 0
Poole, with number one Darcy Ward back from injury, looked comfortable going into the interval after 10 heats - leading by 12 points.
But then they were stung by the Bees, an 8-1 courtesy of Kenneth Hansen's tactical win in Heat 11 set them on the path to glory, as consecutive 4-2s in the final three heats set up the win.
Poole had led going into Heat 15, but a fall by Ward - whilst Przemyslaw Pawlicki saw the race re-started and Hans Andersen claimed the all important win.
Danish duo Hansen (13) and Andersen (11+2) were Coventry's top scorers, with Chris Harris (8), Kyle Howarth (7+1) and fastrtack reserve Jason Garrity (9+2) providing crucial back-up.
Pawlicki (11) and Ward both showed good form for the home side, whilst Josh Grajczonek (7) and Maciej Janowsklu (6+1) also enjoyed heat wins - but Coventry just edged the Pirates out.
Coventry skipper Andersen was delighted with the win and said:  "Nobody saw that coming, I didn't really think we saw it ourselves but that 8-1 gave us a bit of hope, and we really fought well in the second half of the meeting.

"Last time we came here we pushed them hard, and I think this time their riders rode better as a home team than they did then, but to come back and win by one point is so sweet.

"I saw the red lights come on in Heat 15 and quickly went back to the pits to make a small adjustment. Shamek (Pawlicki) again trapped on me but I saw him going for the dirt and I said 'yes,' I knew exactly what I was going to do and it worked out great.

"This shows what we can do as a team when everyone rides well. We had a few riders having an off-night, which everyone has once in a while, and if we could all have a good night at the same time we would definitely thrash whoever!"
Bottom-of-the-table Birmingham claimed a 52-44 victory over Eastbourne Eagles at Perry Barr.
Birmingham were comfortable for most of the evening, although two tactical wins kept the Eagles in contact and even going into the final heat they still had a chance of getting a league point.
Ben Barker was the star man for the home side, winning Heat 15 which guaranteed maximum league points and also top scoring with paid 13.
Daniel Nermark (9+1), Paul Starke (8+1), Danny King (8) and Nico Covatti (7+1) all scored well for the home side.
Bjarne Pedersen (14) and Cameron Woodward (12+2) - who both claimed a tactial win - top-scored for the visitors, with Lewis Blackbird (8) also scoring well from reserve.
Birmingham boss Jack Lee was thrilled with the win and said: "Fair play to all the riders, they pulled together and managed to get the job done. They did it the hard way a lot of the time coming from behind but it was a great performance.
"This shows we can do it, so we just need to take a lot of confidence from tonight and keep moving forward. 

"We are smiling for a change and we are all on a high so hopefully this can be a sign of things to come."