Tai Woffinden emerged victorious at the Czech Republic Grand Prix on Saturday
Tai Woffinden emerged victorious at the Czech Republic Grand Prix to move to the top of the series standings.
Last Updated: 01/06/14 9:27pm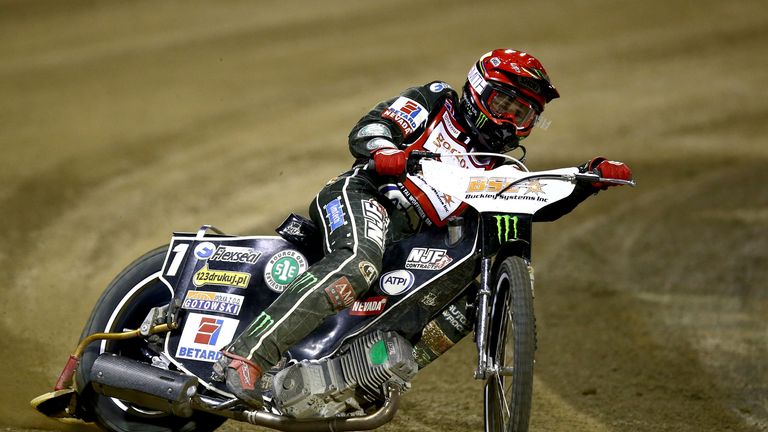 It was the second GP victory of the 23-year-old Briton's career and his 18-point haul sees him join American Greg Hancock as series leader on 46 points.
Coming off a second-placed finish in Finland, Woffinden was in dominant form throughout the meeting at the Marketta Stadium with his fast starting the trademark of his success.
Up until the semi-finals it looked like his main competition would come from Australian Darcy Ward who won his first five heats - including one at the expense of Woffinden.
However, Ward, despite a good start, came up short in his semi with a sublime pass from Denmark's Nicki Pedersen relegating him to third and ensuring he did not make the final.
Pedersen would go through with Finnish winner Matej Zagar, while Woffinden bossed him semi following another lightning getaway from gate two with Hancock joining him after holding off Dane Niels-Kristian Iversen.
It was a similar story in the final, Woffinden proving just too quick from the gate as he got himself ahead early on, with Hancock having to settle for second and Zagar getting the better of Pedersen for the final points paying position.
"It was a great night for me. I made starts and I worked hard," said Woffinden.
"The rut I was in at the start of the season was pretty deep. I've never worked so hard to get out of it.
"I'm out of it now, but I need to keep building and get faster and faster. I'm really looking forward to the rest of the season.
"I didn't expect to be leading at this point. The points at the moment are so close. We've still got a long way to go, though. I can't count my chickens before they've hatched. I'll keep pushing hard, working hard and make things right.
"I won't do anything stupid. It's all the same stuff a million people have said before me. But I'm going to try and do it and I'll see how I get on."
Fellow Brit Chris Harris started slowly but ended with a couple of second places to claim six points.