Elite League: Leicester Lions beat Eastbourne Eagles in Heat 15 thriller
Last Updated: 14/07/14 11:09pm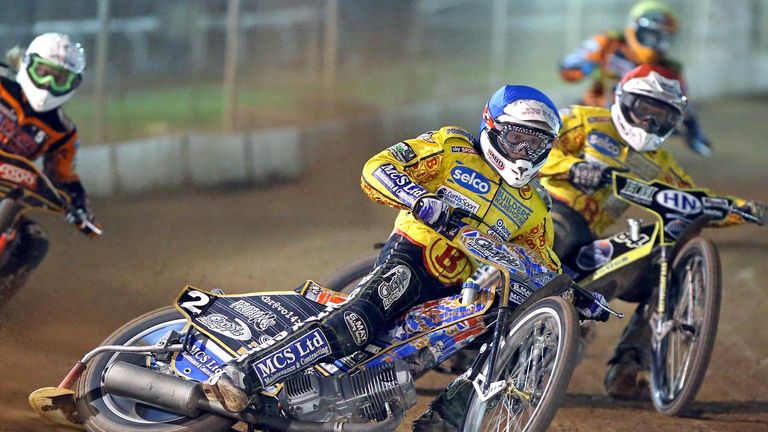 Leicester Lions scored a dramatic 45-44 victory over Eastbourne Eagles after scoring a 5-1 in the final heat.
Krzysztof Buczkowski and Jason Doyle were the stars for the hosts as they came home first and second in the decider, the Aussie just holding off a late charge from Bjarne Pedersen at the purpose-built Jordan Road Surfacing Stadium.
The defeat means Eastbourne's agony on the road continues. The Eagles have now gone two years and one month without a win away from home - a stretch that extends to 31 matches.
The narrow margin of defeat did at least see them pick up a point and they remain in the final final play-off spot on 29pts. Leicester climbed off the bottom after just their fifth win from 18 moved them onto 15pts.
Leicester were quick out of the blocks in Heat 1 when Doyle and Simon Stead gave them a 5-1 but they lost the lead with 4-2 reversals in the next two and from that point they never saw the lead again until the very last race.
All moaning
Eastbourne moved seven points in front at 30-23 after Heat 9 at which point Leicester Team Manager Norrie Allan gave this withering assessment of his riders: "They're all moaning about the track. It's just a nightmare at times. They're not making starts, it's as simple as that. You know speedway, you've got to make starts."
The gap remained at seven with just three heats to go but Doyle (who top scored on the night with 13pts) and Buczkowski teamed up for a 5-1 in Heat 13 before they repeated the feat in the final heat to give Leicester a dramatic success.
Norrie said later: "We can't keep relying on Doyley and Krzysztof in the last race. Krzysztof is odd. He starts the meeting off really poor and then he has a crash and then he gets going. Fantastic."
Trevor Geer, Team Manager of Eastbourne, tried to remain upbeat after seeing victory snatched away.
He said: "When you look at the re-run there's a bike length in it. But the boys put up a terriffic show tonight. Good team spirit and they were determined to do something tonight."