AGM results
The rules for the 2012 British speedway season have been confirmed at the annual AGM.
Last Updated: 21/11/11 1:25pm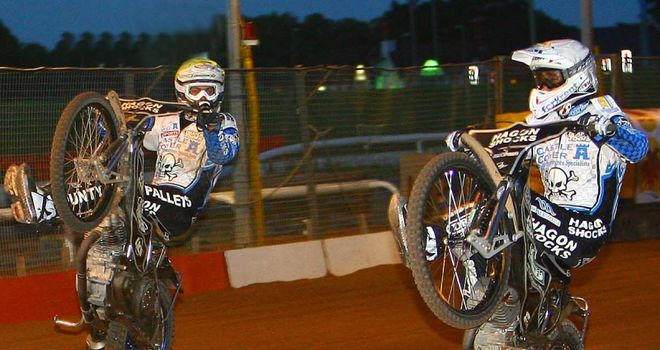 The rules for the 2012 British speedway season have been confirmed at the annual AGM.
Last year saw chaotic events unfold as both Peterborough and Coventry walked out, and they did not return to the fold until after the season had started.
However, this time around all has gone smoothly with every club who participated in the Elite and Premier Leagues in 2010, confirmed starters again.
The one major rule change has seen the scrapping of the rule which allowed only one rider on an average of 8 or more in each team.
This means that reigning champions Poole Pirates will be allowed to keep their dynamic Australian duo Darcy Ward and Chris Holder.
Chairman Alex Harkess hailed a 'positive and harmonious' AGM.
"It's particularly pleasing in the current economic climate to see all of the clubs coming to the tapes in 2012, our AGM preparation in September and October proved invaluable and was without doubt the key to a settled and harmonious conference," said Edinburgh supremo Harkess.
"The spirit of goodwill between our members is extremely positive and fills me with optimism for 2012."
BSPA AGM SUMMARY:
There will be 10 clubs in the EL and 14 clubs in the PL, the same clubs as 2011.
ELITE LEAGUE:
Team building limit 41 points, league and KO Cup as 2011, Eastbourne and Kings Lynn will not compete in the KO Cup.
In the absence of any new entrants to the EL in 2012 the regulation that was introduced in 2011 to assist new entrants by limiting team building to 1 rider over 8pts is removed.
PREMIER LEAGUE:
Team building limit 42.5 points for 3 years Competitions
Early season competition brought back. 2 groups each group winner to final
North - Edinburgh, Glasgow, Workington, Newcastle, Berwick, Redcar, Scunthorpe, Sheffield. Clubs will select opponents on a conference basis to give 5 home and 5 away fixtures.
South - Rye House, Plymouth, Somerset, Newport, Ipswich, Leicester. Clubs race 5 home and 5 away.
League - 1 Home 1 away with top 6 in the league to a play off system. Play off final split into 1st and 2nd in the league who choose the other 2 clubs to join their group in turn for 2 home and 2 away, winner of each group to play off grand final home and away for league champions.
Next 6 (7-12 in the league) separate competitions - same format for league play off competition, last 2 in the league no participation in the play off competitions.
KO Cup as before. 2 Byes to quarter final - Berwick and Sheffield. Round 1 - Somerset v Ipswich, Edinburgh v Rye House, Plymouth v Glasgow, Workington v Scunthorpe, Newport v Leicester, Newcastle v Redcar.
Speedway GB Events:
British U21 Final - Dudley
British Championship Final - Wolverhampton ELRC - Swindon PLRC - Sheffield PL Fours - Peterborough PL Best Pairs - Somerset EL Best Pairs - Shelved for 2012
Awards
EL Track of the year
1st Kings Lynn
2nd Wolverhampton
3rd Peterborough
PL Track of the year
1st Edinburgh
2nd Scunthorpe
3rd Sheffield