Alun Rossiter preview
Swindon supremo Alun Rossiter talks exclusively to skysports.com ahead of the new Elite League season.
Last Updated: 24/03/12 1:43pm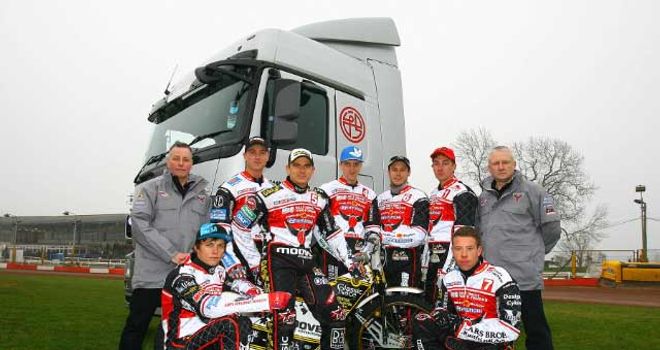 Alun Rossiter's move back to Swindon Robins was one of the most talked about switches of the winter.
Rossiter left Coventry Bees to make a shock return to The Abbey Stadium and he is now ready for the 2012 season back in familiar surroundings.
And Rosco, as he is widely known in speedway, admits even he was shocked at the turn of events.
"That is the way some things go and I always had the philosophy of never say never, although I didn't think it would be that quick," Rossiter told skysports.com.
After the dramatic scenes of the winter of 2010 which almost saw Coventry and Peterborough lost to the sport, Rossiter was fairly happy with how the winter went.
"I am pretty happy, it was fairly quiet and not sure I was that fussed on the changes, but it is a democratic society and no point in whinging about it," he said.
One rule to vanish was just one rider over 8 which was implemented last season, but this year that would have meant Poole being unable to field both Chris Holder and Darcy Ward and they successfully battled to keep it.
"I don't believe they would have been lost to the sport and there was a lot of propaganda coming out of certain areas, but we don't want to lose any riders like top riders like Chris and Darcy, although I think one of them would have got fixed up, but it didn't happen and they are there.
"I thought everything worked well last year, and I believe if it isn't broke don't fix it."
Rocso's views on every team, starting with his own Robins...
SWINDON
I am happy, I have gone on record to say I am very comfortable with the side I have put together but also cautious as I have seen in the past teams look wonderful on paper but have not performed so I have to make sure that does not happen. Cautious but optimistic with the side I have put out and now it is time for the boys to perform on track and if they come up to expectations then we will make the play-offs.
My top two, Hans and Troy, they will even give Chris and Darcy a run and they can beat anyone. Hans is back in the GP which will do him good and hopefully we get the best of him, he looks as fit as he has for a long time.
When you put a team together, the goal is the play-offs and then once you get in the top-four, you look to go for top spot to get the home legs second, but hopefully play-offs is the minimum requirement.
We had a team bonding session recently and it was well worth as they all got on great.
With both the speedway and the football club we have had a barren few years, but now the football is on top and it is my job to get the speedway on top of the league too.
BELLE VUE
Rory Schlein is at the top, and he was fantastic last year and he is a nailed on number one and again it is whether the bottom end will perform. It is all about opinion, there are a lot of people who will need to up their games really.
BIRMINGHAM
They are my surprise package. They look strong all the way through - Birmingham could be the dark horses.
Seb Ulamek will be a good rider in the league, he is a professional guy and well turned out all the time. Whether they get in will depend if they get Ben Barker in for the majority of their meetings with him doubling up with Plymouth.
COVENTRY
It is between them and Birmingham for my final spot, they have a great top three and Kenni Larsen, but again it is whether the bottom end will happen for them. There are a lot of teams who have gone top end strength.
EASTBOURNE
They are pretty solid and will be exceptionally strong at home, but it is what they will do on their travels. They will be hard to beat at home, but it lies away from home for them. Denis Gizatluin, Simon Gustafsson and Cameron Woodward need to have big years for them to challenge.
KING' S LYNN
I find them solid all the way through, riders who ride big tracks well and they should do well at home and they will be there or thereabouts. As Swindon assets I will be keeping a close eye on Maciej Janowski and Mads Korneliussen obviously, but they could be in for a very good year.
LAKESIDE
They are one of my ones for the top, they have great top three in Peter Karlsson, Lee Richardson and Davey Watt, they are reasonably strong at the bottom too with Robert Mear and Kim Nilsson and they will be in the hunt for sure.
PETERBOROUGH
The thing with Peterborough is that they have a number of riders they are looking to step up to the mark and there will be pressure on Olly Allen and Linus Sundstrom. Kenneth Bjerre will maintain his average no problem, so they will be looking for people to step up.
POOLE
Adrian Miedezinki is another of our assets, and he has big potential to up his average but a lot depends on how Sam Masters adapts - he had a good winter in Australia, but they will always be there in the top-four slots and they will make the play-offs. I am sure Matt Ford is always on the ball and if someone is not performing, and the opportunity comes to change he will do it, and that has never done him any harm as he has won the league on a couple of occasions.
WOLVES
Again Wolverhampton have a good top three with what they have got and a lot depends on whether Ty Proctor really steps up, they will be looking for him to step up as Nicolai Klindt, Freddie Lindgren and Tai Woffinden is a good top three, but they will look for a big year for Proctor.
Rosco's verdict...
My prediction for top spot in no particular order is Lakeside, Poole, Swindon and then between Coventry and Birmingham.