SkyBet preview
SkyBet's Scott Springgay brings you their thoughts and odds on the new Elite League season.
Last Updated: 24/03/12 1:54pm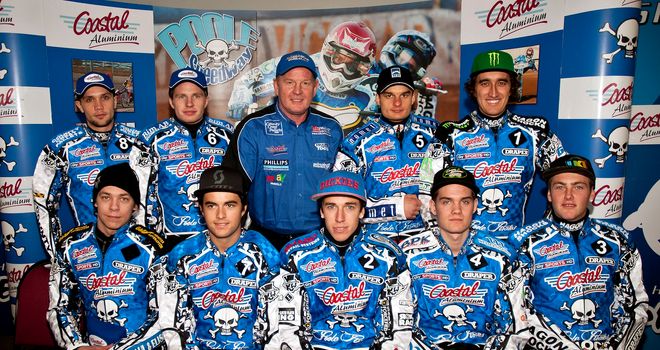 SkyBet's Scott Springgay brings you their thoughts on the new speedway season.
Coventry Bees (5/1) were initially installed as third favourites behind the favourites Poole Pirates (2/1), but it is the Bees who are the punters' favourites so far and they have been backed down from 13/2. No doubt it is the return of the old favourite pairing of Scott Nicholls and Chris Harris that has ignited their interest.
Poole Pirates have their own amazing pair of Chris Holder and Darcy Ward and a strong line up including Adrian Miedzinski and Dennis Andersson to justify their tag as favourites to retain their 2011 title.
Lakeside Hammers (6/1) and Wolverhampton Wolves (10/1) have both been friendless in the betting stakes so far, but these two teams I'm sure can be in the mix at the end of the season. Lakeside always enjoy big home track advantage and now have veteran speedway star Peter Karlsson in their line-up - add in the formidable pair of Lee Richardson and Davey Watt and they will take some beating.
Wolves have one of best home pairings, going on my stats, of Freddie Lindgren and Tai Woffinden who should score as many points at Monmore Green as Holder and Darcy do at Wimborne Road, but they will need backing up by the likes of Nicolai Klindt and Ty Proctor to have a chance of making the play-offs.
Swindon Robins (6/1) and Peterborough Panthers (9/1) are around the same level but I think Swindon will do better on their travels than Peterborough and, now Hans Andersen is riding for them, I think they can finish ahead of the Panthers.
Kings Lynn Stars (12/1) don't really have an out-and-out superstar but have a strong team throughout and it's that teamwork that could see them repeat their excellent play-off place in 2011. David Howe at reserve could prove very fruitful in the points department to boost their chances.
Eastbourne Eagles (16/1), Birmingham Brummies (20/1) and Belle Vue Aces (25/1) are the teams expected to prop up the table. I think all three will struggle to pick up many points at reserve which will keep them towards the bottom of the table, but Eastbourne have attracted some money and big odds at the start of the season on any team can seem great value come the end of the campaign in a league that can always throw up surprises.
Scott's Prediction: The Poole Pirates (2/1) and Lakeside Hammers (6/1) to make the final and battle it out for the 2012 title.