Birmingham v Swindon: Visitors will see this as a must-win clash, says Kelvin Tatum
Swindon are struggling this season but will fancy their chances at Birmingham, says Kelvin Tatum.
Last Updated: 02/06/14 11:54am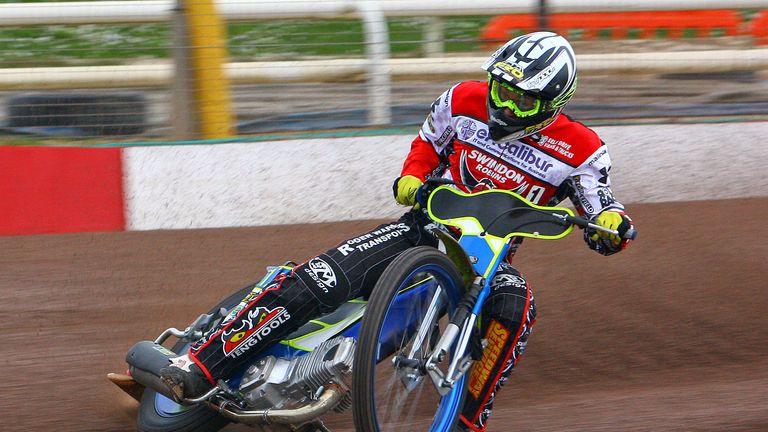 I think they'll be looking at this meeting - with Birmingham having a particularly poor season at the moment - as a must-win.
Nathan Greaves winning his first heat was a smashing moment for the young lad last week, and it certainly put a smile on Alun Rossiter, that's for sure. It's fantastic to see a youngster achieving something like that live on TV.
He's a bit raw - you can see he's got a few rough edges - but they're going to need Nathan to keep producing top rides, particularly in heats two and nine, because they're the opportunities for the lads to really make their mark and make an impression on the meetings.
I was disappointed they cut the meeting short last week, though.
I think once they'd made the decision to continue after heat 10 - yes, it continued to rain - conditions didn't appear too bad. Heat 12, for example, was a hell of a race, so I think Swindon will feel Belle Vue might have stolen a league point off them.
Racing certainly didn't look dangerous to me. Having been a rider I can sympathise - riding in the rain is not ideal, but the track wasn't unrideable. But the decision was made, although it frustrated me a little at the time.
Peter Kildemand has been in great form for the Robins. This is the sort of track where he will thrive - it's a fast-flowing track at Birmingham Perry Barr.
Troy Batchelor is obviously their other star rider. I would suggest that he's a little hit-and-miss, but they'll be looking for him to ride very well tonight. You need your top men producing big performances away from home.
Exciting
Birmingham have just signed teenager Bartosz Zmarzlik from Poland. He burst on to the scene a couple of years ago as a wildcard in the Gorzow GP where he rides. He's been a little quiet since then but he's a rider who's certainly very exciting.
It'll be interesting to see how he gets on because he rides at number one, and coming into a league and to a track where he's never ridden before is quite an ask for a youngster.
The Brummies lost when they were six points clear with two heats left against Coventry last week, and it's a problem.
When you're in those sorts of positions you need to be able to seal the deal, and it's tough because they enjoyed so much success last season and this year the team hasn't been able to reach that level of performance.
On paper they aren't as strong and it's proving a much tougher year. They lost some good riders from last year's line-up and you're asking other riders to step up. Edward Kennett was signed and that didn't work out so he's been released and Nico Covatti is back in.
They need to win at home - it's vital for a side at the bottom of the table. They need to have some foundation, and that will really be based on their home performances. Success is paramount for the Brummies, and if you want people to turn up the best way to do that is to win meetings.
I'm going to put my neck on the line a little bit, and I'm going to go for an away win. Swindon have actually been quite good away from home but they've let some really strong performances slip. Even at King's Lynn, when we saw them, they faded in the last few races.
Birmingham, if they're going to make a fist of it this year, need to win at home but I think Swindon may just have too much for them. I think they'll just nick a win there tonight.