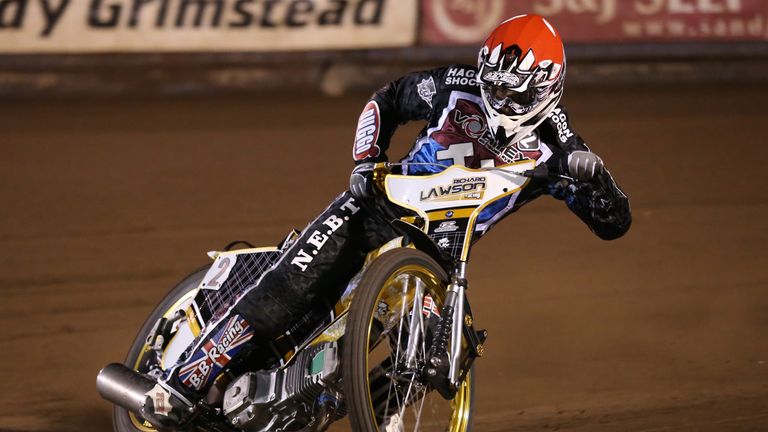 Friday's result between these two was no surprise - Lakeside are a very good side at home and were convincing 58-32 winners.
They've had a slight break after a bit of a wobble, and the management have been pretty outspoken about some poor performances prior to that – they were prone to slip, particularly away from home. The team responded well and pretty much dominated that meeting.
The opportunity presents itself tonight to close the gap on leaders King's Lynn – they've got a very good record at Belle Vue. Admittedly the Aces this season look stronger at home, but there are one or two changes to both teams.
In recent seasons Lakeside have a very good record up there so I'm sure this is an opportunity for them to pick up some points away from home. I know they're looking at it in that light.
Lewis Bridger is in form and has been doing quite nicely, but because Saturday's World Championship meeting in Berwick was postponed, the riders have got to go there this evening – Bridger and Richard Lawson as well.
Lawson has been riding very well this season, but they've got Rory Schlein coming in - who has ridden at Belle Vue before and who's in good form - and also Stuart Robson. I think the two boys coming in are very decent cover for the two who miss out tonight, so I don't think on paper they look much worse off.
Burden
Craig Cook has been poor away but good at home for Belle Vue, so he may be a miss tonight. They've got Simon Stead coming in for Richie Worrall, and he is going to have to find some good form. He has ridden for Belle Vue in the past so it's not a place he's unfamiliar with – they'll be keeping their fingers crossed.
LIVE ON SKY SPORTS
Belle Vue v Lakeside
Monday, 7.30pm, Sky Sports 1.
There's extra pressure on the home team tonight, and the likes of Matej Zagar and Scott Nicholls are going to have to bear a lot of the load.
I think their home form has been solid, and when you've got two riders like Zagar and Nicholls at the back end of a meeting, that always helps. If the meeting's tight, you've got two big hitters coming in at 13 and 15 to right the ship, effectively.
I'm always a big advocate of your big men leading by example when the pressure's on, and they're going to need those two to set the tone for the home team and inspire them.
I do think they're under pressure, though, because – even though their form at home is solid this year, and has been keeping them away from the bottom of the table – I think they may be vulnerable to a team that goes to a place which doesn't hold too much fear for them. Lakeside have been successful there, so they can't afford any slip-ups from the six riders.
They're coming off the back of two poor away performances at Eastbourne and Lakeside in the last few days, so I'm sure the management will be talking to them along those lines, saying 'we can't afford to slip up'.
Prediction
I think Friday night's result will play a part. Lakeside is not exactly the same as Belle Vue in terms of the track, but it's not that dissimilar. Both tracks are tight and technical, and I'm sure Belle Vue are disappointed with their performance – they would have been expecting to get a lot closer to the Hammers.
I think this could be a real tight affair. The fact that Belle Vue are possibly vulnerable with Cook missing means Lakeside will be looking to take advantage of that, and I can see a draw or even an away win at this one.