Crump quits GPs
Three times Speedway World Champion Jason Crump has announced his retirement from the Grand Prix series.
Last Updated: 24/09/12 10:53am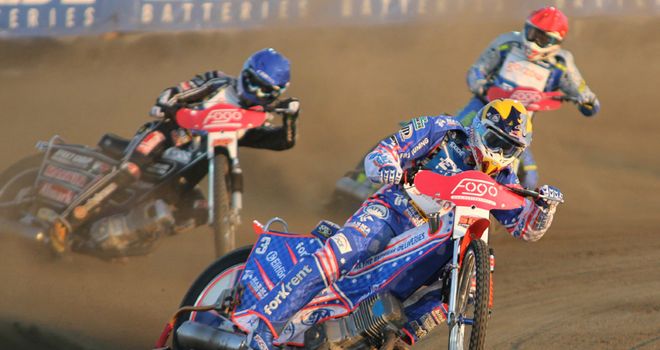 Three times Speedway World Champion Jason Crump has announced his retirement from the Grand Prix series.
The 37-year-old, who is the top points scorer in GP history with over 144 rounds under his belt spanning some 17-years, has made the decision ahead of the final GP of the season on Torun, Poland next month.
Crump will continue his domestic riding duties across Europe, but has opted to quit the top tier of world speedway.
Crump said in a press release: "This is a decision I have made with my family some time ago.
"I am not here to steal anyone's thunder and I believe by announcing this today will allow the world champion to enjoy their rightful place with all the headlines in a fortnight.
"After 12 rounds and a tough series, whoever wins the overall world championship in Torun deserves all the plaudits.
"I am extremely proud of my record in the Grand Prix and have gone into every single world championship meeting believing I could win.
"This is a tough unforgiving series and I would like to think that I have always been a contender.
"Although I am not at the Grand Prix series summit with one round remaining, I have won a round in Copenhagen this year and have made finals throughout and made my presence felt."
Australian
A passionate Australian, Crump said that he felt he couldn't be standing down at a more exciting time for his country in the sport.
He added: "When I first entered the world championship arena I was fortunate to have some outstanding Aussie compatriots like Leigh Adams and Craig Boyce who were durable opponents but huge inspirations on and off the track.
"I leave the series with Chris Holder on the brink of star status and fellow Aussie Darcy Ward ready to step onto the GP stage. I have no doubt they will lead the new generation on track with style.
"I feel privileged to have played a part in the early part of Chris' career and of course I would like nothing better than for him to be the next Australian world champion after me.
"I have been racing bikes a lot longer than most of the riders in the Grand Prix. But I want a new breed to enjoy what I have been involved in for nearly two decades.
"And I want them to go into the series all believing, like me, that they can win. From the moment I got on a bike my goal was to be world champion. The fact I was lucky enough to enjoy the feeling three times is something I will never forget.
"I've had my time and been one of the few to reach the pinnacle. Now it's an opportunity for others to take the stage and enjoy the limelight."
No quitting
Bristol-born Crump admitted that he still has no thoughts about quitting the sport altogether and will continue to race in domestic speedway.
He continued: "I feel I still I can offer league speedway the best of Jason Crump. I still firmly believe I can win races and lead from the front.
"But I've had my x-factor moment in world championship racing, hit the giddy heights and now it's for others to enjoy a new era without me as part of the series."
Crump's decision means that an extra place is now made available for the 2013 SGP series and the man in ninth in the standings will now get entry, and that currently means Swede Andreas Jonsson will benefit.