Aces eye double boost
Belle Vue want Ales Dryml to re-sign for 2013 after revealing Artur Mroczka has agreed to come back next year.
Last Updated: 07/07/12 12:03pm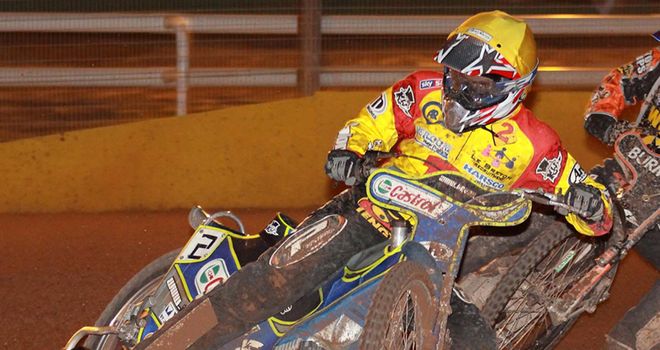 Belle Vue want Ales Dryml to re-sign for 2013 after revealing Artur Mroczka has agreed to come back next year.
Czech Republic captain Dryml leads his country into FIM Monster Energy Speedway World Cup action against Team Great Britain, Australia and Germany at King's Lynn on Monday and has been in solid form of late.
He won the SGP qualification semi-final in Divisov last Saturday to earn his spot in the GP Challenge at Gorican on September 29, where a top-three finish will seal him a World Championship berth for 2013.
Aces team manager Jim Lynch said Dryml, who was not a universally popular signing with supporters when he joined in May, has performed above his average to stiffen the backbone of the side.
Lynch said: "His bikes are quick and he has all the experience he needs to keep riders behind him when he gets in front.
"I think Chris Morton, our operations director, and I can claim some of the credit for having the faith to bring him to Belle Vue and get him back in the Elite League.
"We were convinced he was the right man to do the job of bringing stability into the middle of the team and that's what he has done for us.
"He is a great guy to work with and a very good team man. I can't see why there aren't at least another three or four years left for him in top speedway and I can't see why he couldn't do those years with us.
"I never looked at him as a one-season wonder when we signed him.
"We have looked at making him part of the very big changes being planned for next year. We need the stability he offers because every side needs solid riders as well as stars."
Mroczka rewarded
Meanwhile, Polish star Mroczka has been rewarded for his impressive start to life at Belle Vue with a contract offer for 2013.
The 22-year-old has made himself an instant hit with fans by racking up the points since being signed to fill the place left vacant when Adam Shields retired.
Mroczka's all-action style and double figure scores prompted the Aces to move in quickly to reach an agreement with the rider and his parent club Poole for him to return next season.
Aces operations director Morton said: "We are grateful to Poole for letting us talk to Artur about next season at this early stage.
"We had a preliminary chat before our recent match at King's Lynn and he said he'd be very happy to ride for us again.
"He's delighted to have the chance of a full season in the Elite League offered to him already. We still have to complete financial talks but we don't see this as a problem."
Morton added: "We have liked what we have seen from Artur since he joined us. He has been a revelation.
"We decided to act on what we had seen by getting him lined for next year straight away. He is already very committed to Belle Vue, he loves Manchester and is grateful for the opportunity we have offered him. He wants to come to Belle Vue as much as we want him here."
Mroczka said: "I will be very happy to stay at Belle Vue next year."