Elite League Speedway: Wolverhampton Wolves crush Belle Vue Aces
Wolverhampton continued their fine start to the new Elite League Speedway season with a 59-33 win over Belle Vue.
Last Updated: 03/04/13 7:41pm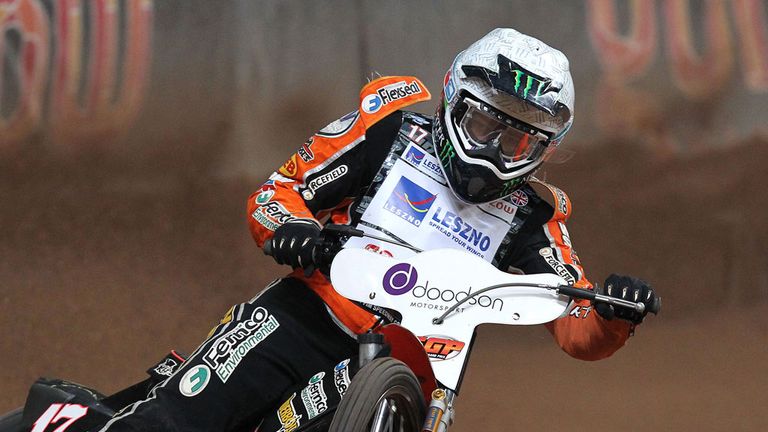 The home team made a blistering start to the meet with four maximum scores inside the opening six heats. Tai Woffinden won both of his races while Ludvig Lindgren and brother Freddie also claimed first-place finishes.
The Aces' only ray of light came in the shape of veteran Swede Magnus Zetterstrom in the heat three, however, it was still a split of the six points with Adam Skornicki and Ricky Wells finishing second and third respectively.
Freddie Lindgren made it two wins from two races in heat seven, although Belle Vue earned a share of the points at four apiece with Zetterstrom in second place earning 'double points'.
"The track is a little bit sketchy. It's the same for everyone. The weather has been terrible all over Europe," Freddie Lindgren told Sky Sports.
"This is the first time we've been on the track except for my testimonial. For some of the boys it's their first time out. With the team that we've got, there've been here for a long time and that was to our advantage."
Advantage
The points were split in the next two heats before the Wolves extended their lead to 20 points courtesy of Woffinden's third success of the night with team-mate Ty Proctor taking second place.
Belle Vue used their second 'double points' in heat 11, but they were unable to capitalise as Matej Zagar failed to beat a Wolves rider and finished in third with only one point. Ludvig Lindgren bagged first with Fredrik making it a yet another 5-1 heat.
Zetterstrom secured his second victory of the night in heat 12, but he admitted Belle Vue's work on the night had simply not been up to scratch.
"It's easy to say I'm enjoying it when you're scoring points. I didn't enjoy it as much when I finished last in the race before," said Zetterstrom, who had two firsts, a second and fourth.
"It's early in the season. I'm not proud of the team at the moment. We shouldn't be that bad. We're giving things away. We have to put this meeting behind us now and move forward. When we're on top we're really good."
Aces rider Craig Cook helped restore some pride with first in the penultimate heat, although Wolves had the final say with Freddie Lindgren collecting his third victory on the night.