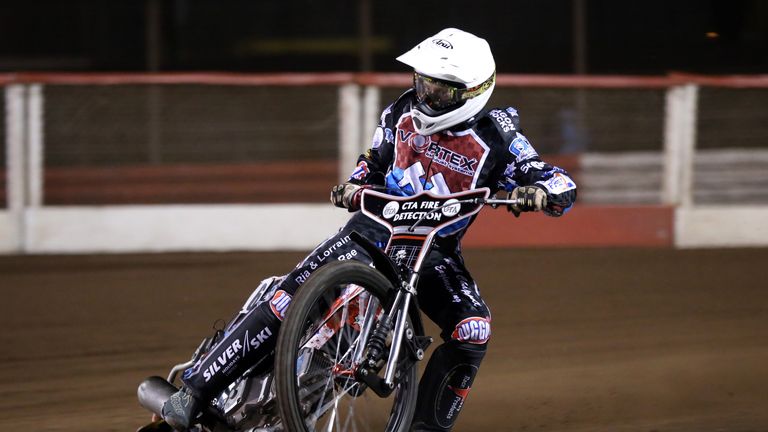 Lakeside extended their lead at the top of the Elite League with a comfortable 53-40 win over Wolves at the Arena-Essex Raceway.
RESULTS AND SCORERS

RESULTS AND SCORERS

Lakeside Hammers 53
1. Peter Karlsson 5
2. Richard Lawson 9
3. Davey Watt 10
4. Lewis Bridger 8+1
5. Scott Nicholls 8+2
6. Ben Morley 9+3
7. Adam Ellis 4
Wolverhampton Wolves 40
1. Tai Woffinden 9+2
2. Jacob Thorssell 5
3. Ricky Wells 4
4. Ty Proctor 3+1
5. Piotr Pawlicki 13
6. Joe Jacobs 2+1
7. Ashley Morris 4+1
--------------
Coventry Bees 41
1. Hans Andersen 10
2. Aaron Summers 6
3. Ryan Fisher 2
4. Kenneth Hansen 5
5. Chris Harris 7+1
6. Jason Garrity 8+1
7. James Sarjeant 3+1
Swindon Robins 49
1. Peter Kildemand 12
2. Dakota North 2+1
3. Nick Morris 8+1
4. Simon Gustafsson 4+1
5. Troy Batchelor 10+2
6. Dan Greenwood 1
7. Steve Worrall 12+1
The Hammers fine start to the season continued as they were rarely troubled by a Wolves team, who were again below par - including World champion Tai Woffinden.
Three 5-1 maximum in the opening five heats set-up the victory, although an 8-1 courtesy of a Piotr Pawlicki tactical win did help stem the flow - although it was one of just three heat wins all evening for the Black Country outfit.
Lakeside were led home by Davey Watt with 10, but they were solid throughout with guest Scott Nicholls chipping in with a fine paid 10 and Richard Lawson (9) and Lewis Bridger also scoring well (8+1).
At reserve and their top fast-track man was not Adam Ellis as has been the case for much of the season but instead Ben Morley who returned an impressive paid 12 haul.
Polish starlet Pawlicki again led Wolves with 13 points, but Woffinden with paid 11 was the only rider to provide any sort of back-up.
Swindon Robins proudced a real shock at Brandon as they claimed a 49-41 triumph to take a maximum four league points.
The two teams were level after seven heats in a tight looking contest, but then Swindon reeled off four straight heat advantages including three 5-1s and Coventry just could not react.
Hans Andersen was the only home rider to hit double figures with 10 points as Swindon proved too strong with their top-two of Peter Kildemand (12) and Troy Batchelor (10+2) doing the damage.

But perhaps the star man of the evening was fast-tack reserve Steve Worrall who was in top-form with a brilliant paid 13.