Great Danes inspire Robins
Hans Andersen and Peter Kildemand combined for seven heat wins as Swindon Robins beat Coventry Bees 54-39 at Abbey Stadium.
Last Updated: 17/04/12 6:14pm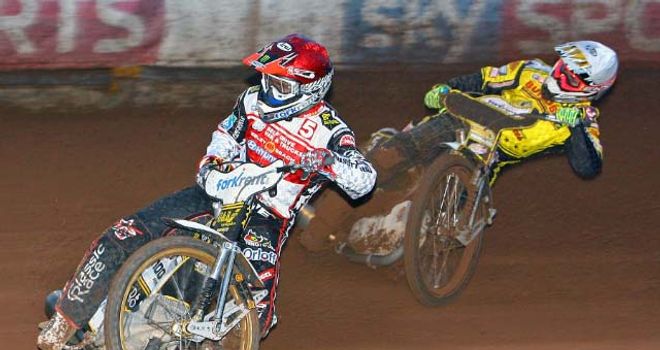 Hans Andersen's paid maximum helped Swindon Robins beat the Coventry Bees 54-39 at Abbey Stadium.
Andersen won four heats on the way to 14+1 points and was ably supported by big scoring reserve Peter Kildemand with nine.
The Robins never trailed after the first of Kildemand's three victories in heat two and gradually built their advantage throughout the evening.
Kildemand had an adventurous night, crashing heavily in heat eight while leading before limping back to the pits. The Dane recovered sufficiently to return to the saddle and win heat 12.
Edward Kennett, with 10+1 points including victory on the tactical ride in heat 10, was the only Bees rider to score double figures.
The Bees suffered horrendous mechanical gremlins with both Scott Nicholls and Kenni Larsen suffering engine failures costing them five points in two consecutive heats.
"I'm really pleased, a good score for myself but more importantly for the team," said Andersen.
"I'm just getting back to enjoying my speedway again. It's like a new start for me with a new club and this team is really good.
"I felt good on the bike and I thought it was a good effort by the whole team, hopefully we can keep it going now we go into some away meetings."
Hammers on top
Lakeside Hammers continue at the top of the table after they claimed a 51-42 success at Belle Vue.
The Aces struggled from the off and amazing managed just four heat wins all evening, with Charlie Gjedde the only home rider hitting double figures.
The Hammers had former Ace Peter Karlsson leading them home with 13, whilst doubling up reserve Richie Worrall grabbed an excellent paid 12.
Belle Vue team boss Jim Lynch said: "The boys are still very short of laps and need as much racing as possible at the moment.
"There were signs that things are improving but every time we forced our way back into the meeting we were unable to cash in with back to back heat wins. At least we didn't get murdered by an in-form side."
Wolves maximum
And finally, Wolverhampton secured maximum points with a 51-41 win over Eastbourne Eagles at Monmore Green.
Wolves rode the meeting under protest due to the make-up of the Eastbourne side with guest Danny King moving to number three, and rider replacement being used for Simon Gustafsson at number one.
Despite their protest, Wolves sealed the win with both Tai Woffinden and Freddie Lindgren unbeaten by an opponent.
Lindgren, however, was involved in a spectacular crash in the last race and was unable to take his place in the rerun thanks to an arm injury.
Boss Peter Adams said: "It was a nasty crash and Freddie has hurt his arm but we expect him to be okay. He looked a bit uncomfortable afterwards and couldn't ride in the rerun.
"We're delighted to pick up the win, it's a nice feeling and there are a lot of plus points to come out of it. It gives us something to build on.
"I don't like singling riders out, but I was particularly pleased with Thomas Jorgensen who came in for Ricky Wells and scored well."