Rain wins out at Belle Vue
Belle Vue and Eastbourne were frustrated by the weather on Monday as their televised clash at Kirkmanshulme Lane was called off.
Last Updated: 24/04/12 1:56am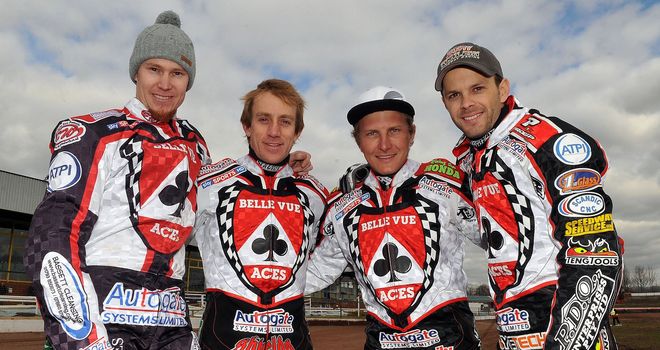 Belle Vue and Eastbourne were frustrated by bad weather on Monday night as their televised clash at Kirkmanshulme Lane was postponed.
Prolonged downpours throughout the day in Manchester left the track in a real mess, though the hard work of the staff at the venue raised hope that the meeting could still go ahead.
But, just as the riders were getting set for the tapes to go up on the opening race, the heavens opened again.
The heat did get underway but three immediately came off their bikes at the first corner; Ben Barker appeared to suffer the most, going over the top of his handlebars, leaving him needing treatment whilst on the ground.
Decision
The crash, coupled with the rain falling again, led to meeting steward Craig Ackroyd making the decision to call off proceedings.
"They've had quite a lot of heavy rain this afternoon, and everyone's worked really hard to make it into a race-able condition," he told Sky Sports.
"Unfortunately, just before the first race started we had more rain, which has compounded the problem we already had.
"Without that little bit of extra rain we would have been in a position to get the meeting on - it's just come at the wrong time just as it was starting.
"It's left us in a position where there's no more work we can do to get the track ready for tonight."
Belle Vue captain Rory Schlein was one of the riders to fall in the first heat and he was in agreement with the decision, adding: "(It was) a little chaotic. Everyone was just going everywhere.
"Everyone here wants to ride, but when you've got three riders lying on the deck after the first turn it makes you think."
The washed out fixture means the Aces are still yet to register a point in the new Sky Sports Elite League season, though they've only had three meetings so far. Eastbourne, in contrast, have already had eight outings in 2012.