Hammers clear at the top
Lakeside sit on top of the Sky Sports Elite League after a weekend victory over Swindon Robins.
Last Updated: 21/05/12 1:44pm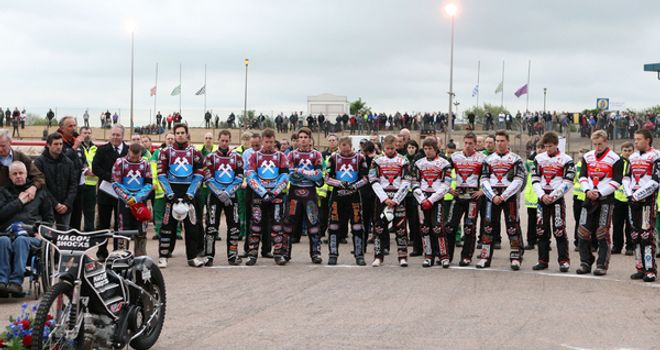 Lakeside sit on top of the Sky Sports Elite League after a weekend victory over Swindon Robins.
The Hammers were racing their first home match since the tragic death of their skipper Lee Richardson.
A minute's silencer was impeccably observed at the Arena-Essex Raceway as Lakeside chiefs Jon Cook and Stuart Douglas read out a moving tribute to their former star.
A collection also took place for the Richardson family and over £7,000 was collected in a remarkable show of generosity.
On track, despite the sombre mood - Lakeside made no mistake as they dispatched of Swindon Robins with a 50-40 win.
Davey Watt was in wonderful form as he claimed a perfect 15-point maximum, whilst Peter Karlsson also showed up very well with 12.
Hans Anderson did his best for Swindon but he was the only visiting rider to claim double figures with 10.
On Saturday Swindon were again on their travel as they went to Eastbourne Eagles - but again they came away pointless as they went down 51-39 at Arlington.
Eastbourne, who are now in second place, were comfortable winners with Finnish reserve Timo Lahti in brilliant form with paid 18.
But Swindon actually won 8 of the 15 heats, with Andersen and Peter Kildemand claiming 10 each - but that was not enough to deny the home side as they also ran 10 lasts.
Bees win
Finally, Coventry Bees claimed maximum points with a 48-42 win over Peterborough Panthers.
Coventry's British trio Scott Nicholls (13+1), Chris Harris (10+1) and Edward Kennett (8) led them home as no Peterborough rider was able to claim double figures.
Coventry owner Mick Horton said: "This was a meeting that looked very tough beforehand, and we had a chat to all the boys beforehand to make sure we were all ready for it.
"I've got to say I'm proud of each and every one of them. The effort was first-class throughout and they were an absolute credit to the club. We're pleased with the two points in the circumstances."