Swindon stay top
Swindon Robins remain on top of the Sky Sports Elite League after grabbing a dramatic 48-45 win at Coventry Bees.
Last Updated: 09/08/12 11:41am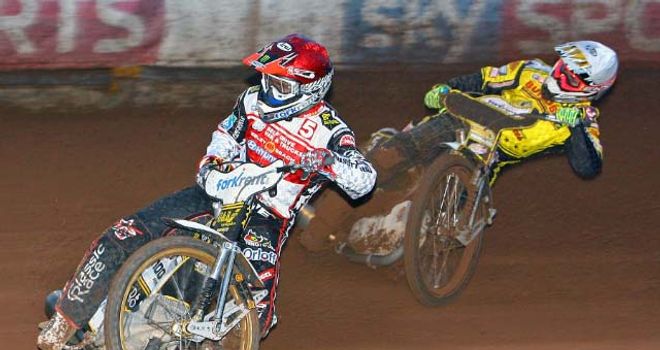 Swindon Robins remain on top of the Sky Sports Elite League after grabbing a dramatic 48-45 win at Coventry Bees.
The Robins went top of the league on Wednesday after a Speedway Control Bureau ruling amended a result from earlier in the season against King's Lynn, and the extra point gained put them ahead of Poole.
And Swindon made sure they stayed on top with a victory at Brandon.
Troy Batchelor and Hans Andersen were the Robins' heroes with a Heat 15 5-1 to ensure they took the lead for the only time in the meeting at just the right time.
It had been a night fraught with difficulties for the most part as Robins found themselves on the back foot with the concession of three 5-1s in four races between Heats 3 and 6.
Batchelor won Heat 10 on a tactical ride to halve the ten-point gap and Swindon battled back to touching distance by Heat 15 - where Batchelor and Andersen delivered the goods.
Manager Alun Rossiter said: "I would have been more than happy with a point, because everything that could have gone wrong did go wrong.
"Everyone says you have to do the tac. ride straight away but I think I called it right and we got a 7-2 out of it, so credit to Troy and Simon, but then again Lampart crashed twice when we were in good positions so it made life hard for us.
"Full credit to the mechanics, they were fantastic tonight with how they rallied around, and in the end Troy and Hans were fantastic and Peter showed his class in coming back from two lasts. All in all, a great win when a point would have been good with the problems we had."
Pirates win
Defending champions Poole kept up the pressure at the top with a comfortable 56-33 win over Peterborough Panthers at Wimborne Road.
Krzysztof Kasprzak was the hero for the home side with a perfect 15-point maximum, but Poole dominated throughout - with the Panthers winning just two races all evening.
Birmingham Brummies pulled off a priceless 55-35 victory over fourth placed Lakeside at Perry Barr to give their play-off hopes a massive boost.
The home side moved six points clear thanks to 5-1s in Heats 2 and 3, before a pair of consecutive 4-2s in Heats 5 and 6 saw them extend that leading position.
A Heat 9 maximum put the Brummies firmly in control, before four heat advantages in the final four races ensured that they ended the night in style.
Manager Phil Morris said: "It was a vital win. We knew we had to get three points tonight. It is never really life or death at this stage of the season but I think getting maximum points tonight was pretty much vitally important in keeping our play-off chances well and truly alive.
"We have got three massive away meetings now coming up at Swindon, Poole and Lakeside. The two top teams and the trickiest track in the league, so if we can get any points out of those meetings it will be great."
BIrmingham's top three of Ben Barker, Bjarne Pedersen and Seb Ulamek all finished on double figures which meant they were far too strong for Lakeside - who struggled throughout and did not see any rider score more than paid 8.
King's Lynn Stars also kept their play-off hopes alive with a 51-39 over Eastbourne Eagles at the Norfolk Arena.
Polish youngster Mateusz Szczpaniak starred for the Strars with 13+1 whilst guest Rory Schlein also claimed 11.
Joonas Kylmakorpi was excellent for the visitors with 16 but only Cameron Woodward provided any real back-up.