Eagles clear in third
Eastbourne Eagles remain clear in third place and on course for a play-off place after a convincing 61-29 success over Belle Vue Aces.
Last Updated: 03/09/12 2:56pm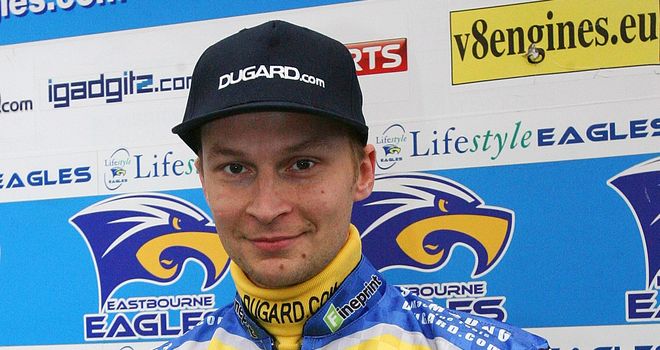 Eastbourne Eagles remain clear in third place and on course for a play-off place after a convincing 61-29 success over Belle Vue Aces.
With Poole and Swindon mathematical certainties to qualify for the end of season showdown that ultimately determines the League Champions, the Eagles currently lie in third place, heading the chasing pack of play-off hopefuls that also includes Lakeside, Peterborough and Birmingham with King's Lynn still not yet completely out of the running.
With their match against the Aces proving their last home match of the regular campaign, it was important that the Sussex side return a handsome win as they kick off a marathon run of travelling fixtures, which includes the return against the Manchester club this coming Monday and visits to Poole (Wednesday 5th September), Peterborough (10th September) and Birmingham on the 14th.
They know only too well that they still have work to do on the road if they are yet to qualify for the final four but three-points against the Aces was effectively a 'must have' results if the Sussex men were to keep their aspirations alive.
In the event, that target was achieved with the minimum of fuss, Belle Vue seldom looking likely to combat Eastbourne's home dominance after they opened up an early 8-point (13-5) advantage courtesy of 5-1's in heats 1 and 3, the injury hit visitors seemingly carrying themselves with the demeanour of a team weighed down with a season's worth of disappointment and ill fortune
For each of the Eagles it was to prove a bumper pay night, Joonas Kylmakorpi topping the scorechart with a paid 14-point return, Lukas Dryml celebrating his second home paid maximum in succession, Timo Lahti winning his first race in the main team en-route to an 8 (paid 9) point haul while reserve Denis Gizatullin also enjoyed a confidence boosting night with a win and a paid win in each of his final two outings.
For the Aces, it wasn't to prove such pleasing reading, the Manchester men able to muster only two heat wins between them, Artur Mroczka in heat four and Rory Schlein in race thirteen, while both of those men's tactical ride efforts were destined to end in failure, a last for the Pole and third place for the Australian ensuring that the visitors tally wouldn't be added to by the tactical ploy.
Eastbourne team Manager Trevor Geer said: "Truthfully, few people expected the Aces to trouble us and that was how it turned out, we got the win that we needed.
"But it is now that the hard work really begins. We have been fortunate that the teams around us have been dropping points but we cannot afford to be complacent, Monday's match at Belle Vue is a massive fixture for us, we need to pick us points from that one to help our play-off chances.
"Although we remain hopeful of gaining something from our final matches, we don't want to be heading to the likes of Poole, Peterborough or Birmingham needing a win to stay in the top four."