Poole set for top spot
Elite League champions Poole Pirates are on course for top spot ahead of the play-off after claiming a 49-41 win over second-placed Swindon Robins.
Last Updated: 11/09/12 2:50pm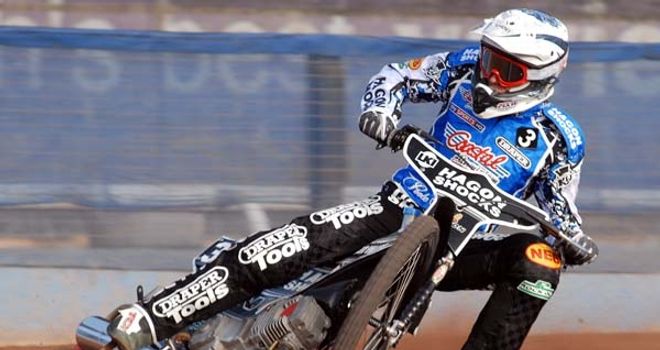 Elite League champions Poole Pirates are on course for top spot ahead of the play-off after claiming a 49-41 win over second-placed Swindon Robins.
The result from a match raced in wet conditions at Wimborne Road, which forced a temporary stoppage midway through, puts the Pirates in pole position to secure top place in the Elite League table, and therefore gain choice of opponents in the play-off semi-finals.
With just three races to go the two sides could not be split with the match standing at 36-36 - but Poole powered away in the latter stages.
Darcy Ward, Chris Holder and Krzysztof Kasprzak were all in good form for the Pirates claiming double figures and combing for 5-1s in Heats 13 and 14.
But the biggest cheer of the night was arguably for new signing Piotr Pawlicki, who rounded Jason Doyle and Dawid Lampart to claim a brilliant win in Heat 14.
"It was a mesmerising ride and for a kid of 17-years of age to produce four laps of such maturity under pressure with Doyley and Lampart throwing everything at him to prevent him getting past was one of the great, great heats of speedway," Pirates team boss Neil Middleditch
Swindon boss Alun Rossiter felt his side could and should have secured at least a point, saying: "It's hard to know whether to be disappointed or frustrated about not coming away with anything, but I'm certainly not disappointed with the efforts of the boys. Conditions were difficult for both teams.
"We really should have got a point but I can't blame the riders, they all gave it their best. We'll re-group for Thursday, the ball is out of our court now for finishing top but we'll be going out there to do the best we can."
Panthers
Peterborough soared into third place after a 54-38 win over Eastbourne Eagles at the East of England Showground.
With three matches to go, Peterborough have their future in their own hands although all three of their remaining fixtures are away from home.
But they will be confident of securing however many points are required with trips to the bottom two, Belle Vue and Coventry, to come, along with Friday's match at Lakeside who are one of their direct rivals.
Panthers produced a convincing, solid display to see off the Eagles, with good scoring from one to seven, including guest reserve Josh Auty who was in for foot injury victim Tomas H Jonasson.
Skipper Linus Sundstrom took the individual honours with four race wins, his scoresheet only blotted by a retirement in Heat 9 when he was trying to work his way through from the back.
The Eagles were well served by former Panthers man Lukas Dryml, who provided a predictable threat at reserve and piled-up 14-points before falling in his last ride as the home side made sure of maximum points from the meeting.
Panthers will now await the outcome of Thursday's key meetings - Birmingham v Eastbourne and Swindon v Lakeside - which will determine what they need to do to hold a top four place in their crucial closing fixtures, which start at Lakeside on Friday.