Wolves make it two wins from two, as Eastbourne and Lakeside claim opening wins
Wolves made it two wins from two as they stunned new boys Leicester on their Elite League debut.
Last Updated: 30/03/14 4:27pm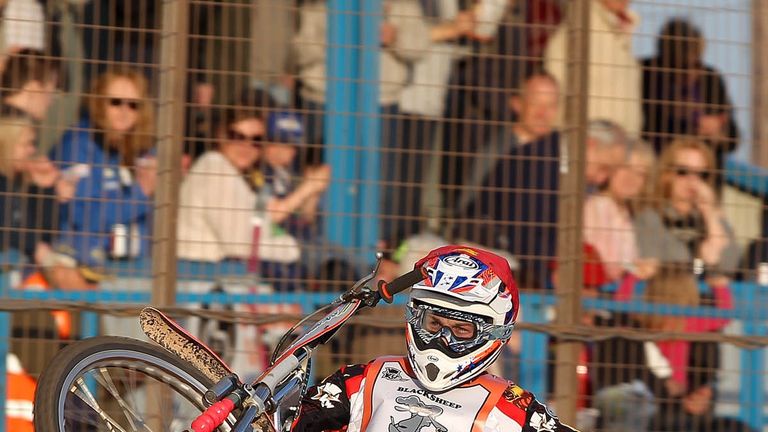 Wolves won the opening top-flight match of the season at home to Birmingham on Monday and they followed that up with victory at another midlands rival in the shape of Leicester.
It was Leicester's first-taste of top-flight speedway and they were just over-powered by Wolves, whose 'drafted' reserves looked far too strong.
Leicester's new top-five all contributed and they actually fell behind just once in the meeting - but unfortunately for them it was the only time that matters, after heat 15.
Mads Korneliussen top-scored as he claimed three wins as he hit 10 points, whilst Peter Ljung (9+1), Patrick Hougaard (7+2) and Jason Doyle (8+1) all showed up well.
But it was at reserve where Leicester struggled with just paid 6 contributed by Tom Perry and Max Clegg, whilst their Wolves counterparts Joe Jacobs and Ashley Morries claimed paid 13 between them.
In the main body and it was actually Chris Harris - guesting for Piotr Pawlicki - who top-scored with paid 13 as world champion Tai Woffinden claimed just 6 points in an up and down meeting which saw him claim two wins.
With the impressive Jacob Thorssell (10) also hitting double figures, it was Wolves who took the win as the Swede combined with Harris for a 4-2 in the final heat to seal an impressive victory.
Eastbourne Eagles and Lakeside Hammers also began their campaigns with home wins, but in very different fashion.
Romped
The Eagles romped to a 62-30 success with brilliant young Dane Mikkel Michelsen stealing the show with a paid 15-point maximum.
Skipper Cameron Woodward (12+3) was also undefeated as the away side claimed just two wins all evening as Eastbourne dominated with Bjarne Pedersen (10+1) and Timo Lahti (9+1) enjoying big scores.
Eastbourne's draft pairing Lewis Blackbird and Danny Halsey also showed their liking for the Arlington circuit as they dominated the Birmingham pair of Ben Morley and Benji Compton - although both were guesting for the visitors.
Danny King, Adam Skornicki and Daniel Nermark all scored 7 to top-score, but that highlighted just what a struggle it was for them on the South Coast.
In stark contrast to Eastbourne's romp Swindon took a point off Lakeside who won 47-44 at the Arena-Essex Raceway.
But Lakeside will be wondering how they managed to drop points as with three heats remaining they led by 11 points, but two 5-1s in heats 13 and 15 saw Swindon close the gap and claim an away point.
Lakeside number one Peter Karlsson endured a horrific evening with just 2 points, but with Richard Lawson (9) and Mikkel Bech (9) providing good back-up to Davey Watt (9) - the home side proved good enough.
Lakeside's draft pair of Adam Ellis and Ben Morley always looked strong and they proved too good for Darryl Ritchings and guest Matt Williamson, and in the end that was crucial for the home side as Swindon did score heavily at the top end with Peter Kildemand (13+1) and Troy Batchelor (11+1) doing well.