Peterborough Panthers boosted by return of Danish star Kenneth Bjerre
Peterborough have confirmed that Danish star Kenneth Bjerre will return as their No 1 and captain for the new season.
Last Updated: 25/01/13 6:24pm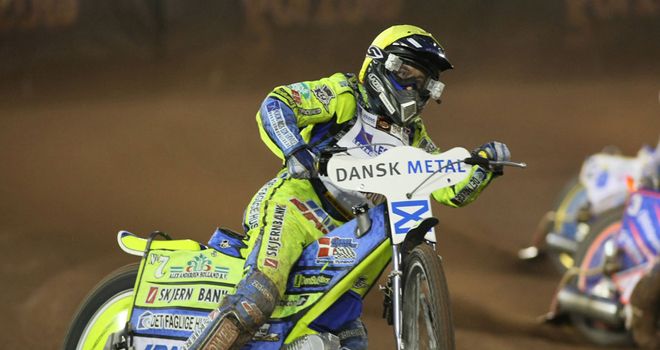 Bjerre has been given the green light to resume racing after suffering a badly broken leg last August and Panthers co-boss Jan Staechmann was thrilled with the news.
"We were delighted to receive that call from Kenneth to tell us that he will be ready for the start of the season, and we have wasted no time in doing a deal with him to resume racing at Peterborough come March," he said.
"After all the speculation over the winter I am over the moon to have Kenneth in the team, and I have no doubt he will be out to prove a few people wrong once the tapes go up in March.
"Kenneth has lots of ambition, and I am sure the hunger of not being in the GP next season will spur him on a great deal."
Bjerre himself added: "I am so happy to stay with Peterborough. I really love the club and the fans - for me this was an easy decision.
"I live just twenty minutes away and this club is my home. I hope to see out my career with this team.
"I am also really proud to be named captain again and will do my very best to help lead this club to glory in the play-offs. I feel very prepared for the season.
"I have put in so many hours at the gym working on the strength of my leg and I am confident I will improve on my starting average.
"This will be my seventh season with the Panthers and I am really looking forward to having a good year, and put 2012 well and truly behind me."
Panthers owner Julie Mahoney commented: "It was wonderful to get the phone call from Kenneth on Thursday afternoon to say the hospital had finally given him the green light to get back on a bike again. We've always had to make plans to cover all eventualities, but we're delighted that Kenneth will be back with us this season.
"He's a great rider and captain and is also very popular with our supporters."