Danish ace Patrick Hougaard has joined Peterborough from Belle Vue
Peterborough Panthers have completed their 2013 side with the singing of Dane Patrick Hougaard from Belle Vue.
Last Updated: 29/01/13 8:20am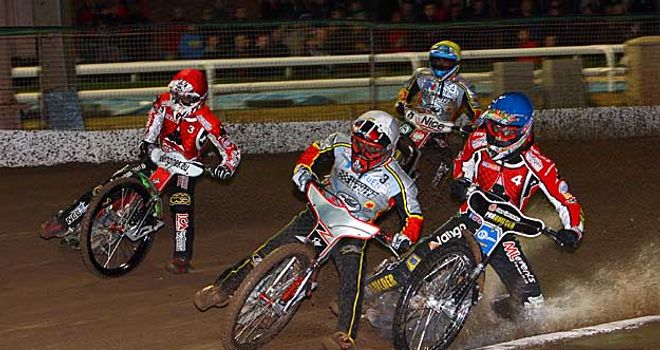 Hougaard joins the Readypower Panthers on a 4.98 average after spending five successive seasons with Elite League rivals Belle Vue.
The 23-year-old was first seen on British tracks when he had a short spell with Reading in 2007, but then joined the Aces mid-way through the 2008 campaign after completing his school studies in his homeland.
During his time with the Manchester club he matured into a very capable top flight rider - with his average peaking in excess of 7.50 during 2011 - but injuries last year affected his scoring.
Panthers co-boss Jan Staechmann said: "Patrick is an ambitious young man who quietly goes about his business, and I think he is the perfect fit for our team.
"I think he will benefit greatly from moving to a bigger track, and let's face it, they don't come much bigger or faster in the UK than the East of England Showground. It is a move that I think will benefit both rider and club, as I believe Patrick has the ability to increase his average significantly.
"Patrick does a lot of work behind the scenes, and for example his fitness regime will put any Premier League footballer to shame. He does things the 'right way' and does a lot of work for his sponsors to project his image, and is very aware of the important role sponsors have in our sport.
"I had Patrick as captain of the Denmark Under-19 and Under-21 sides, because he is always well presented, has immaculate equipment, and he is a great team man who not only offers encouragement and advice to his team mates, but is also a good sounding board for a manager when it comes to ideas and planning.
"Patrick will start the season at reserve with Dakota North, and there will no doubt be a healthy competition to be in the main body of the team."
Hougaard becomes the third Dane to be signed-up for the 2013 campaign which starts in March, joining skipper Kenneth Bjerre and fellow new recruit Kenni Larsen.