Defending champions Swindon Robins maintain perfect start to their title defence
Swindon's wonderful start to their Elite League title defence continued as they beat Peterborough Panthers 50-40.
Last Updated: 13/04/13 4:03pm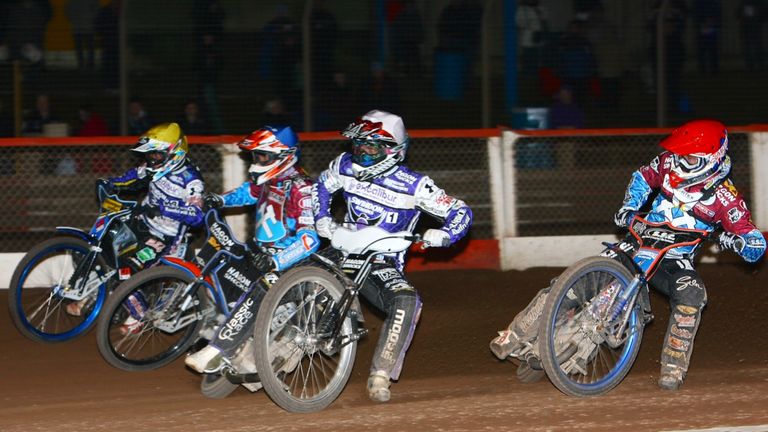 The East of England Showground is usually something of a fortress, but the Panthers' colours were lowered for the second time this season as Swindon followed in King's Lynn's track marks to inflict a miserable evening on the home side.
After a bright start from Peterborough, which included a 5-1 maximum in the opener, they allowed Swindon back in and by Heat 7 the visitors were ahead and they dominated the latter part of the meeting to take full share of the spoils.
And the reason for Peterborough's demise is easy to see as Panthers number one Kenneth Bjerre as he delivered a somewhat humiliating paid 5 from hsi four starts.
Peterborough's top men were new signings Kenni Larsen (11) and Ryan Fisher (8) but that was all too little to trouble the table topping Robins.
In comparision to Bjerre, Swindon's number one Hans Andersen continued his fine form this season with a 12-points haul - but there was brilliant back up from Polish reserve Kacper Gomolski (11+1), Ed Kennett (10+2) and Peter Kildemand (10) who all hit double figures.
A delight Swindon boss Alun Rossiter said: "When you start winning, it becomes a habit and we've got this belief running through the team. In the last quarter of the match we came very strong, and it's amazing.
"All of the boys are so up for it, and full credit to them. They have been outstanding in the last few meetings, and to be honest coming here I privately thought that to come away with a point would have been a result.
"We made some mistakes last year. We should have killed meetings off and got four points, and we probably could have finished on top of the table, but we threw some silly points away. We talked about that, and it was great to see how keen they all were to get all four points."
Panthers boss Jan Staechmann said: "There's no way of getting around the fact that it was a disappointment, and we have to re-group. There wasn't any one over-riding factor, but I do think we need to be stronger from the gate and be better at defending our positions.
"You can look at the individual races until you're blue in the face, the fact of the matter is that we lost by ten points at home, and so anything we come up with would just be excuses, which serves no purpose.
"We've had five meetings so far and four of them have been against some of the favourites for the championship, but we should be able to win races and we need to do better."