Poole Pirates are on course for a place in the KO Cup final
Poole are firm favourites to book a place in the KO Cup final after securing a 51-39 first leg win over Peterborough.
Last Updated: 25/10/12 2:42pm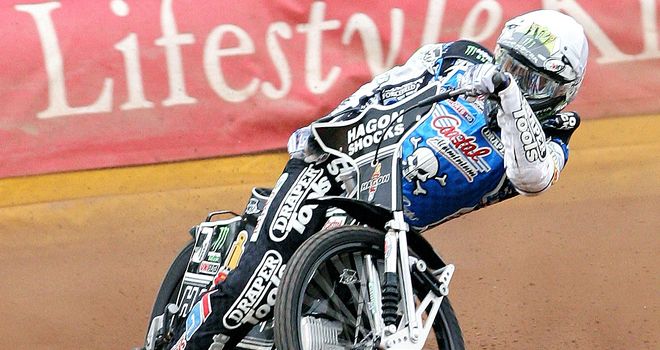 The South Coast giants shrugged off the disappointment of losing the Grand Final on Monday, but clinching a comfortable win.
Poole were led home by a masterful performance from world champion Chris Holder who scored a paid maximum, but there was additional heavy scores from Pole Krzysztof Kasprzak with paid 17 and Danish guest Niels Kristian Iversen who claimed 10.
Peterborough had two guests top scoring for them with Mads Korneliussen and Scott Nicholls both hit double figures.
But it is Poole who go into Thursday's second leg with firmly in control.
Poole team manager Neil Middleditch said: "I think Chris showed exactly why this club have been so successful during his years with the club.
"After Monday's disappointment at missing out on the title against Swindon, he refused to let his head drop and has yet again proved to be the rock and the example for the rest of the team.
"We all know that we have a difficult second leg at Peterborough but I am happy with the 12-point advantage. I would certainly have been happy with that lead at the start of the first leg and as reigning holders I hope we can defend the lead to make the final."