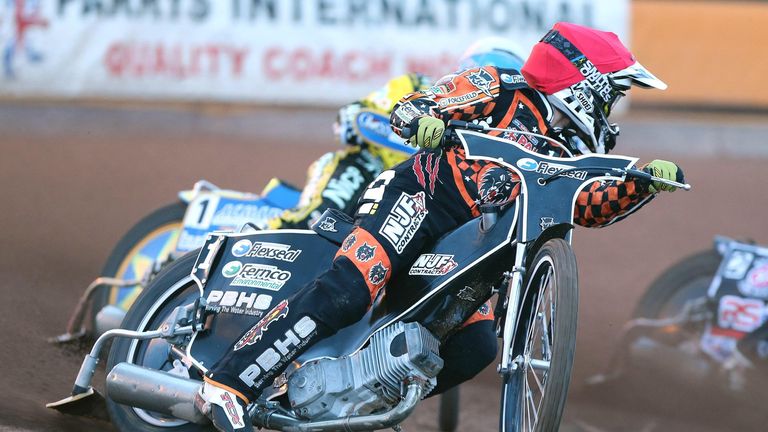 Wolverhampton produced a brilliant finale to register a 52-38 win over Swindon Robins at Monmore Green.
Result and scores:
Wolverhampton Wolves 52
1. Tai Woffinden 13+1
2. Jacob Thorssell 6
3. Ricky Wells 5
4. Ty Proctor 8
5. Piotr Pawlicki 10+2
6. Joe Jacobs 2+1
7. Ashley Morris 8+1
Swindon Robins 38
1. Peter Kildemand 7
2. Dakota North 10
3. Nick Morris 6+1
4. Simon Gustafsson 4
5. Troy Batchelor 3
6. Nathan Greaves 0
7. Steve Worrall 8+1
The visitors, though, will be left wondering how they failed to take something away from the Black Country after leading for much of the meeting.
Swindon started strongly and Wolves did not level things up until Heat 10 and there was still only two points in it heading into Heat 13.
But then Wolves reeled off three successive 5-1 maximums to take maximum league points.
Leading Wolves home was number one Tai Woffinden, who showed a welcome return to form with with paid 14 and he was quick to credit the track staff who got the meaning on despite heavy rain.
"The track staff deserve great credit," he said.
"We all need to thank them because it was raining here for the majority of the day but we got the meeting on.

"It wasn't ideal early on but it was the same for both sides and I'm really pleased with the way the boys handled it.

"It's good to see all the boys scoring points, it was a solid all-round performance and I was pleased with my own display, that's much more like it from me!"
In-form Piotr Pawlicki produced good back-up with paid 12, whist Ty Proctor (8) and fast-track reserve Ashley Morris (8+1) also scored well.
Recent signing Dakota North showed great form for the Robins with 10 points, but he was the only visitor to hit double figures with only the likes of Steve Worrall (8+1), Peter Kildemand (7) and Nick Morris (6+1) producing some decent back-up.