Wolves replace Sowka
Wolverhampton Wolves have dropped Pole Lukasz Sowka and replaced him with a double-up partnership.
Last Updated: 29/06/12 3:09pm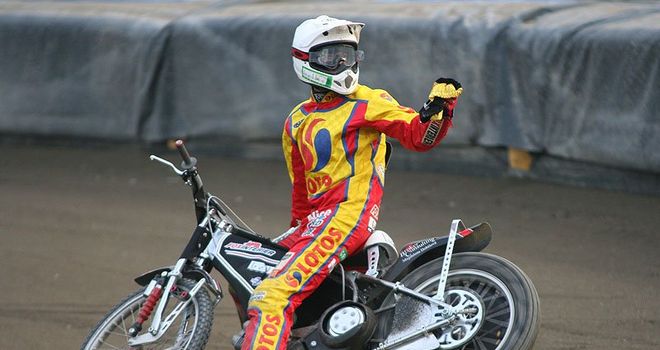 Wolverhampton Wolves have dropped Pole Lukasz Sowka and replaced him with a double-up partnership.
Premier League duo Matej Kus and Kenny Ingalls have been brought in after both impressed boss Chris Van Straaten.
Czech Republic ace Kus comes in for his first taste of Elite League action from Redcar Bears, whilst Kenny Ingalls - who has spent time with Swindon Robins in the past, is with Workington Comets.
Van Straaten said: "With our strong connections with the Redcar club we have been watching Kus for a while but it's just not been possible to do anything until now.
"He's a classy performer who scored well for Redcar on Thursday night and I know he is relishing the prospect of some Elite League experience with ourselves.
"Kenny Ingalls is a lively character who spends a lot of time at Monmore and he is making good progress in the sport. It will be interesting to see how he progresses too."
Van Straaten insists it's not necessarily the end of Sowka's Monmore career.
He said: "We have been very loyal and supportive to Lukasz and we know there is a rider there because of the way he scores points and beats top opponents in his home country.
"I sincerely hope this is not the last we see of him in Wolverhampton colours but as a club we believe this is the right thing to do at this stage of the season.
"We will continue to watch Lukasz's scores elsewhere and there may well be an opportunity to bring him back in the future. We will announce a new signing once we get the necessary approval from the British Speedway Promoters' Association."
The news come just days after Wolves brought in teenager Jacob Thorssell to replace injury victim Pontus Aspgren.
Club owner Chris Van Straaten said: "Jacob showed great determination and put in a lot of effort in that meeting and he has been earmarked for a place here, but not quite this soon.
"He's only 18 with a bright future in the sport and although we're bringing him in sooner than expected he's very excited about this opportunity."