Tai Woffinden agrees terms with Wolves for 2013
Wolves have, as expected, confirmed that British ace Tai Woffinden will be back at Monmore Green next season.
Last Updated: 21/12/12 2:26pm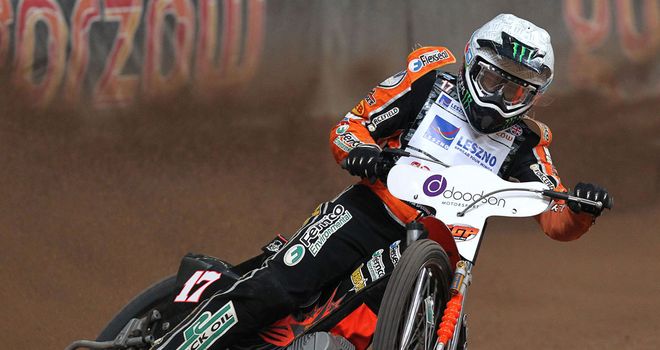 Wolves have confirmed that terms have been agreed with Woffineden, whilst also announcing deals for Ricky Wells, Ty Proctor and fans favourite Adam Skornicki.
"I'm really happy to be back," said Woffinden who is will be competing in the Grand Prix Series next term.
"The last couple of seasons have been disappointing for Wolves but I want to play my part in getting the back where they should be - in the play-offs."
Wolves boss Chris Van Straaten added: "Tai is facing up to a big season and he is determined to have everything in place to give him the best possible chance of success.
"Both he and I share the same enthusiasm about Wolverhampton, we are determined to help get this club back where it belongs."
Wolves also announced the news that Skornicki would be returning to the club.
"This may be a surprise move in many people's eyes, but Adam was desperate to come back," said the Wolves boss.
"We also had messages from some supporters suggesting we consider him. He has a first class record with the club, two league titles and a fantastic attitude.
"He's such a popular character in the pits he will help with team spirit and he can provide us with some very important points.
"When I called him he was thrilled. He even said it was 12 years to the day since I first made contact with him - it must have been a major moment in his life!
"He's the type of rider we want here at Wolverhampton, he will always give us everything and I'm certain the fans will make him welcome."
Wolves now have six riders confirmed in Woffinden, Freddie Lindgren, Skornicki, Wells, Proctor and Jacob Thorssell.
Van Straaten revealed that Wolves would be looking to make Wells's deal at the club a permanent one.
"I can confirm he is also in negotiations with Sheffield about a Premier League place and once those negotiations have been completed we will look to open negotiations with Coventry regarding his contract.
"He is a firm favourite with the supporters and had a fine season with us, he feels confident he can improve further."
Proctor also returns and like Wells will be looking to double up in the Premier League.
He said: "I just want the fans to know I'm more disappointed in the last two years than anyone and I've made a few changes.
"I didn't do enough meetings last season and signing at Plymouth will help me and I feel very positive about the 2013 season.
"My message for Christmas to all my friends back in the UK is this - let's start the season off on a positive from the get-go, from the promotion to riders and most of all the fans. I'm looking forward to seeing everyone again in March."