Elite League Speedway: Eagles lose unbeaten record
Eastbourne boss Trevor Geer lamented a night to forget as the Elite League's only unbeaten home record was lost.
Last Updated: 24/06/13 2:22pm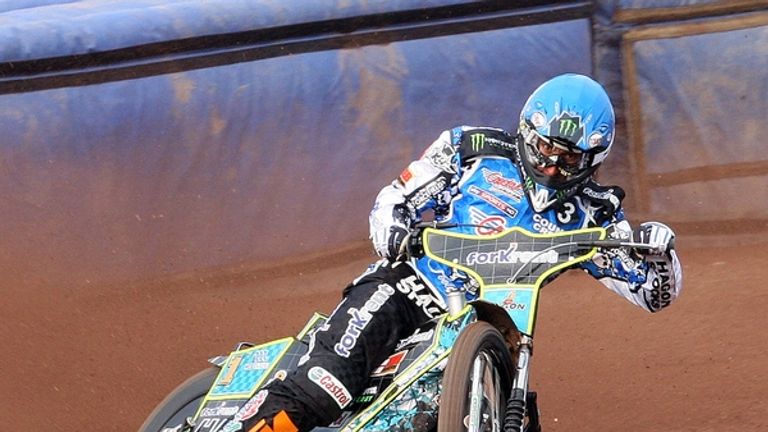 The Pirates had made multiple changes due to the weekend Grand Prix qualifiers, and guests Richie Worrall and Mikkel Bech provided outstanding support to World Champion Chris Holder (pictured) who scored a paid maximum - as a match which was level after nine heats finished 55-35 to the Pirates.
Geer said: "That simply wasn't good enough - without doubt the worst Eastbourne performance that I have seen in a long time.
"I know Simon (Gustafsson) scored some good points for us but most of the riders minds seemed to be elsewhere. We simply must take a long hard look at ourselves and see where we go from here."
Wolverhampton boss Peter Adams took some encouragement from the performances of the club's regular riders as the Elite League leaders went down 53-39 at Lakeside.
The result moved the Hammers into third place, six points behind Wolves with one match in hand, with Polish star Piotr Swiderski (pictured) leading a solid scorechart with 12+1, whilst Freddie Lindgren (15) and Adam Skornicki (11) both hit double-figures for the visitors.
Adams said: "I think on tonight's evidence we would have given Lakeside a run for their money had we gone there with our full side.
"Pretty much all of our points came from our own four riders, and we were all very encouraged by the performance although we came home empty-handed."
Coventry made it five home wins in succession by taking maximum points from a 56-38 win over Swindon at Brandon.
Former Robins man Grzegorz Zengota (pictured) starred against his old club with 15+1 with Michal Szczepaniak adding 13+2 against the depleted Robins, whose four guest riders contributed the bulk of their total.
Bees skipper Scott Nicholls said: "Their guests gave it 100 per cent because for them it's another pay-day, and the more points they could get the better for them. But if we can get the consistency in the track and the boys are performing well, there's no reason why we can't push to get through to the play-offs."
Swindon boss Alun Rossiter added: "I'm a bit worried about Kacper (Gomolski), and Nick (Morris) had a night he will want to forget very quickly, but there is not an awful lot to say. The riders gave it their very best, and we can't ask anything more."