Play-off battle goes on
The three-way fight for the final two play-off places will go into the last week of regular fixtures - after Lakeside defeated rivals Peterborough.
Last Updated: 15/09/12 12:43pm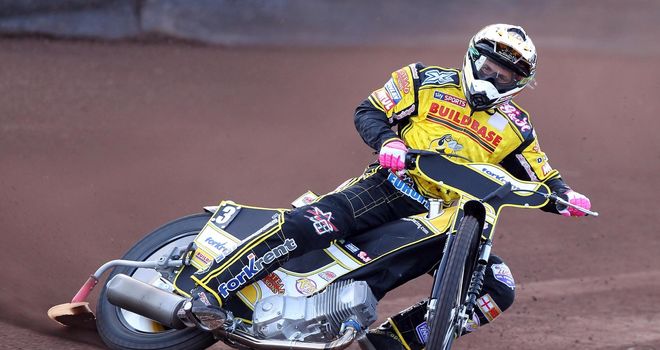 The three-way fight for the final two Elite League play-off places will go into the last week of regular fixtures - after Birmingham lost at Coventry and Lakeside defeated rivals Peterborough.
The Brummies looked on course to book a top four finish when they led 39-33 at Brandon with three heats to go, but the Bees finished strongly and a last race 5-1 from Scott Nicholls and Chris Harris secured a 47-43 win, leaving Birmingham with one point from the meeting.
After a tight meeting, Birmingham had built up a slender six-point lead with only three races remaining, but their opponents were back level by the time the final race arrived.
And in Heat 15 Bjarne Pedersen was passed by Nicholls and Chris Harris, leaving the Brummies agonosingly short of confirming play-off qualification as Lakeside took maximum points over Peterborough.
Pedersen did top score for the Perry Barr outfit along with skipper Danny King who continues to consistently perform.
But it was Harris and Nicholls who were the heroes for the home side with their last heat heroics.
Nicholls said: "Fair play to Birmingham, they pushed us hard and led for a long time. They adapted to the track quicker, but at least we managed to get it together at the end.
"It was a great Heat 15 with me and Bomber, and we came away with a win. It's great for the fans - we've got fantastic support here and I know how frustrating it's been for them this season.
"It's still nowhere near as frustrating as it's been for us riders, but we've still got the Cup to go for, and it would be nice to get some success there and have as good an end to the season as we can to give the fans something to be happy about!"
Hammers up for it
Lakeside, meanwhile, collected all three from a 52-40 victory over the Panthers, and that puts them level on points with the Brummies although they have completed their fixtures.
The result moves the Hammers into fourth place in the table, and means the Panthers need at least two-points from next week's remaining away meetings at Belle Vue and Coventry to qualify for the title shoot-out.
Panthers were missing three regulars but using guests and rider-replacement they put up a very spirited performance. Stand-in reserve man Patrick Hougaard had a busy night taking seven rides after fellow guest Jacob Thorssell withdrew hurt after a Heat 6 fall. The Dane topped the visitors scorechart with 13+1 with Linus Sundstrom (10+2) and Ryan Sullivan (8+1) offering best support.