Stars end Pirates run
Poole Pirates unbeaten star to the season has finally come to an end after they lost out at the Norfolk Arena to King's Lynn Stars.
Last Updated: 02/07/12 11:34am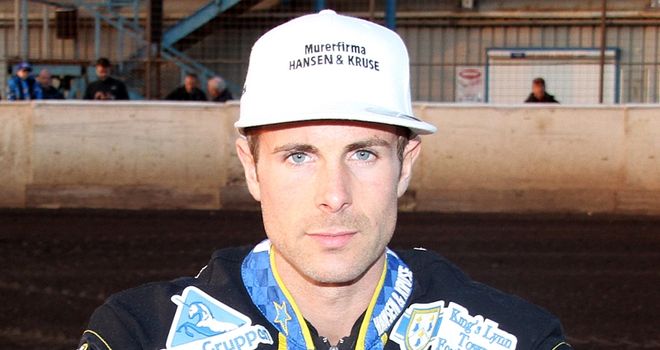 Poole Pirates unbeaten star to the season has finally come to an end after they lost out at the Norfolk Arena to King's Lynn Stars.
The match had turned into something of a grudge match as King's Lynn were left furious that Poole were able to use Artur Mroczka as a guest for Adrian Medzinski - who has now left the club.
But The Stars claimed a 49-41 win as the match ended in dramatic fashion. Having been behind for all the meeting, Poole levelled up after Heat 13 with controversial guest Mroczka combining with Davey Watt for a 5-1.
However, King's Lynn replied with two 5-1s of their own to secure a memorable win and Poole's first defeat of 2012.
King's Lynn were led home by the in-form Niels Kristian Iversen with 14, whilst Poles Maciej Janowski and Mateusz Szczepaniak also shone with double figures.
Mroczka actually led Poole with 13 whilst Watt and Chris Holder also scored well, but they were basically a three-man team as King's Lynn sealed maximum points.
"All the meetings you win are memorable I guess, but some are better than others," said Stars boss Rob Lyon.
"I was really happy with the way we dug deep and got the result, I was banking on heat 14 as a 5-1, trying to keep it all square at the very least in the latter part of the meeting, and it worked out that way.
"It was a big gamble leaving it and hoping on heat 14, but it paid off. It was a great victory for us, and a result for our fans, onwards and upwards."
Bees stung
Elsewhere, Eastbourne produced a huge shock as they sealed a 52-38 win over Coventry at Brandon.
The Bees were missing Chris Harris due to his Grand Prix duties, but they turned in a below par performance as none of their riders could hit double figures with Ed Kennett and Simon Stead claiming paid 10.
Instead it was Eastbourne who blew Coventry away with guest Seb Ulamek top-scoring with 12 whilst Finnish reserve Timo Lahti continued his impressive form with paid 13.
Coventry chief Mick Horton apologised to his own fans saying: "It was a much improved turnout tonight and it's a really big thank-you from me and everyone associated with the club. I'm just so sorry we couldn't get the victory that everyone wanted.
"We're certainly not going to give up. We know we've got the riders, they're not all performing together in one meeting at the moment, and I'm really frustrated and I feel for all the fans. We're trying to sort it out, and I just ask people to just stick with us through the good times and the bad times.
"There's lots to put right, and all I can ask is that when we're losing, we really need your support. I know it's easy to walk away when we're losing, but we need and value the support to give us a lift.
"We will come good, I'm sure of that, and even if the worst happens we'll still cause a few upsets along the way."
As expected Eastbourne co-promoter Mike Bellerby was delighted: "We really believe that we have achieved something we can build on here.
"Each and every one of the lads had a part to play and so far as we were concerned they played it just right.
"This proved a truly magnificent night for the Eagles and our fans and a result, and not forgetting our second away win in succession following the victory at Belle Vue last month, that keeps us well and truly in the mix for an Elite League Play Off place"