Pirates clinch top spot
Poole are certain to finish on top of the table at the end of the Sky Sports Elite League regular season after a 47-43 win over Birmingham.
Last Updated: 17/09/12 10:11pm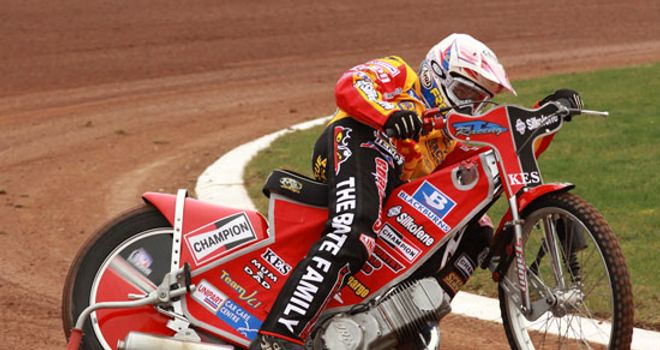 Poole are certain to finish on top of the table at the end of the Sky Sports Elite League regular season after a 47-43 win over Birmingham.
The Pirates let slip an early 10-2 lead before rallying in the closing heats to pip their hosts at Perry Barr and earn the right to choose their opponents in the semi-finals of the play-offs.
They could still yet face the Brummies again, though the Midlands team are still not certain of ending up in the top four.
Their failure to pick up a point means they now have to lose by 12 or less against in-form Swindon on Wednesday night to secure a play-off berth.
It had all looked so good for Birmingham after they had overcome a dreadful start, Chris Holder and Ludvig Lindgren leading hom 5-1 results for the visitors in the opening two races.
However, two successive 5-2 results helped close the gap and the Brummies found themselves in front for the first time on the night when Danny King led home team-mate Ben Barker in heat nine.
Slender advantage
They kept hold of their slender advantage until race 13, Krzysztof Kasprzak and Holder recording a 1-2 finish to put Poole 40-38 up.
Any hopes of a Birmingham win then disappeared when Barker crashed in the penultimate heat trying to chase down Kasprzak, though the British rider bounced back to at least win the last from Ward and Holder.
"If it has to come down to points then we have to keep these teams close," Barker said afterwards. "We gave them an eight-point head start at the beginning of the meeting and pulled it back. If we don't give them a head start then we can beat them."
Manager Phil Morris was disappointed with the performances of some of his riders - top seed Bjarne Pedersen in particular had a night to forget, including trailing in last in the crucial 13th heat that saw the lead switch hands again.
"It's our home track and if we want to be in the play-offs you can't afford to lose at home," Morris told Sky Sports.
"A lot of boys can up their game. I'm not mentioning names, people know what they are. There are going to be riders that should've done better and haven't."
While the Brummies have to fight on for one more meeting Poole will now focus their thoughts on just who to pick when the final four teams left standing are known.
Peterborough remain in the mix but now find themselves in need of a win at Coventry after being thrashed by 57-31 by Belle Vue in a meeting cut short due to a horrible crash in the final race.
Linus Sundstrom was taken away on a stretcher after the incident, a further blow for the Panthers after they had already lost Ryan Sullivan through injury.
In the other meeting to take place on Monday night, King's Lynn and Coventry drew 45 apiece, Chris Harris top-scoring with 13 points for the Bees.