Elite League speedway: King's Lynn beat Swindon 48-42 at Norfolk Arena
King's Lynn came from behind to post a 48-42 victory over Swindon Robins to stay unbeaten at home this campaign.
Last Updated: 19/05/14 9:57pm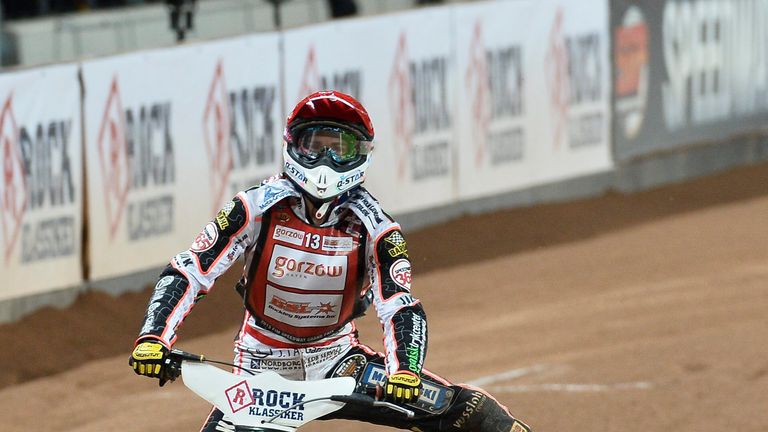 The hosts were gunning for their fifth successive three-point win at home this term but found themselves down 28-20 after Heat 8.
But three 4-2 results in the next four heats saw Rob Lyon's men reduce the deficit to 37-35 and the Stars then took the lead for the first time in Heat 13 when Peter Kildemand was excluded after crashing out on the first turn.
The hosts took full advantage of his exclusion as Niels-Kristian Iversen, who scored a maximum 15 points on the night, and guest rider Scott Nicholls claimed a 5-1 maximum to put King's Lynn 40-38 up.
Fast-track reserve Lewis Kerr and Robert Lambert then posted another 5-1 maximum in the penultimate heat to leave the hosts 45-39 ahead.
However, Robins skipper Troy Batchelor came second and Peter Lidermand battled past Nicholls to claim third behind winner Iversen in the final heat to salvage a deserved point for their team, with the Stars taking two.
King's Lynn Stars team manager Lyon was happy to take the win after his team had trailed for most of the meeting.
Houdini act
"It's a bit of a Houdini act, I've got to be honest, tonight," he said.
"But Swindon's come and given it a real go at us, fair play to them, they've taken part in a great meeting."
Swindon team manager Alun Rossiter was not happy after his team had thrown away the eight-point advantage, with the latest defeat coming after the Robins lost 52-38 to Wolverhampton, despite starting well and only being two points down heading into Heat 13.
"It's not acceptable, we've been in great positions again and 13 was again - just like (in the recent meeting at) Wolverhampton, was vitally important. Peter went over the concrete and his front wheel just washed away there."
The two points kept King's Lynn in second place, level on 22 points with third-placed Poole, who also came from behind to beat leaders Lakeside 50-40, although the Stars have taken part in one less match.
Despite the defeat, Lakeside remain top of the table with 26 points, while the point from their loss sees eighth-placed Swindon move up to 11 points from their first 10 outings.